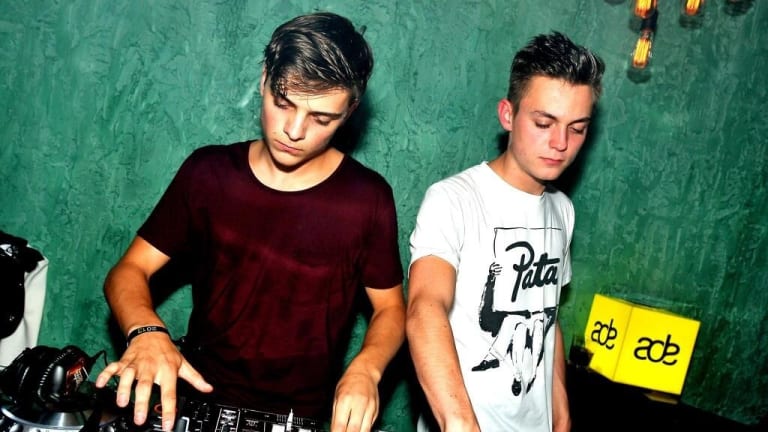 Martin Garrix Follows Last Week's 5-Song Spree with a Julian Jordan Collab
Martin Garrix has been on an absolute tear lately.
It's turning out to be a highly eventful couple of weeks for Martin Garrix. Between rapid-fire track releases, his Life=Crazy photo biography, and being named #1 on the DJ Mag Top 100 DJs for the third year in a row, he's certainly kept busy. 
Rather than resting on his laurels, Garrix has now debuted a Julian Jordan collaboration as well.
The Dutch superstar DJ/producer included the as-yet-unnamed ID in the setlist of one of his Amsterdam RAI performance during Amsterdam Dance Event last weekend. The drop of the track showcases a call and response between Garrix's trademark vocal chops and one of Jordan's cinematic synth melodies. As can be seen in the video clip captured at the event, the former artist's test audience received the single well.
Two weeks ago, Martin Garrix fans correctly guessed that his cryptic website update was a sign that five new songs were on the way. They were wrong in predicting that his Julian Jordan collaboration would be one of them, however. Of the five, one saw him team up with Polish producer Blinders and another with Garrix's fellow Dutchman Dyro.
Being that Julian Jordan has previously released music on Martin Garrix's STMPD RCRDS, it stands to reason that their collaboration will arrive by way of the imprint. Neither Garrix nor Jordan have disclosed a release date or any other information at the time of writing.
H/T: EDM Sauce
FOLLOW MARTIN GARRIX:
Facebook: https://www.facebook.com/martin.garrix
Twitter: https://twitter.com/MartinGarrix
Instagram: https://www.instagram.com/martingarrix
SoundCloud: https://soundcloud.com/martingarrix
FOLLOW JULIAN JORDAN:
Facebook: https://www.facebook.com/itsjulianjordan/
Twitter: https://twitter.com/JulianJordan
Instagram: https://www.instagram.com/itsjulianjordan/
SoundCloud: https://soundcloud.com/julianjordan