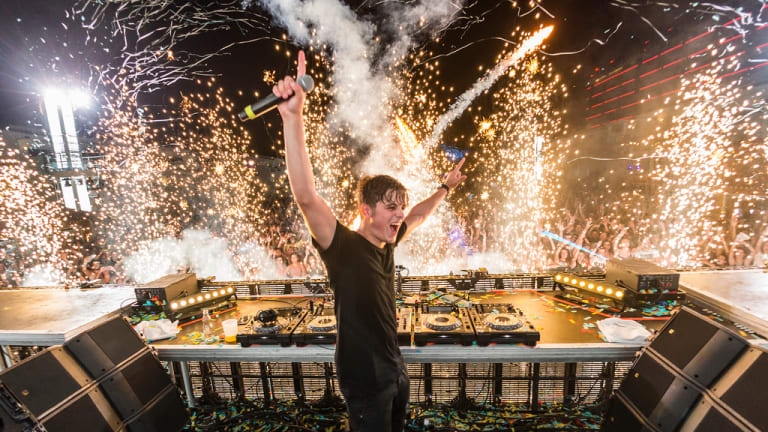 Martin Garrix Marks First Day of ADE with Dyro Collab, "Latency"
"Latency" is the third track Martin Garrix has shared from his upcoming EP.
The latest track delivered by Martin Garrix may well be the most impressive yet. The superstar DJ/producer and STMPD RCRDS label head has served up one single after another this week. Today, he has followed them up with "Latency," a collaboration with his fellow Dutchman, Dyro.
Leaning more towards the electro end of the spectrum than Garrix's recent big room house releases, "Latency" exhibits the crisp sound design for which Dyro has achieved worldwide renown. The official music video does the track justice. Directed and written by Damian Karsznia, it showcases the moves of dancers Joachim Munki, Aaron Tiekink, Martin Foru, Joseph Hendo, Sherida Lucia Kartowirjo, and Victoria Osipova.
So far, the speculations of Martin Garrix fans have been mostly correct. When he updated his website with a cryptic video they predicted that a five-song EP was on the way - and they even guessed that two of the songs would be collaborations with Blinders and Dyro. They were wrong about titles, however. They speculated that the latter collab would go by the name "Surge," and that Garrix's solo track would be titled "Access" instead of "Yottabyte."
If his fans at least continue to be right about the parties involved, Garrix will close out the week with Julian Jordan and Ryan Tedder collaborations. In the meantime, Martin Garrix Presents STMPD RCRDS is slated to take place at United Studio's Mediahaven in Amsterdam, Netherlands tonight, October 17th, as part of the first evening of festivities in participation with Amsterdam Dance Event.
FOLLOW MARTIN GARRIX:
Facebook: https://www.facebook.com/martin.garrix
Twitter: https://twitter.com/MartinGarrix
Instagram: https://www.instagram.com/martingarrix
SoundCloud: https://soundcloud.com/martingarrix
Follow Dyro:
Facebook: https://www.facebook.com/officialdyro
Instagram: https://www.instagram.com/dyro/
Twitter: https://twitter.com/dyro 
Follow STMPD RCRDS 
YouTube: http://www.youtube.com/c/stmpdrcrds
Facebook: https://www.facebook.com/STMPDRCRDS/
Instagram: https://www.instagram.com/stmpdrcrds/
Twitter: https://twitter.com/stmpdrcrds