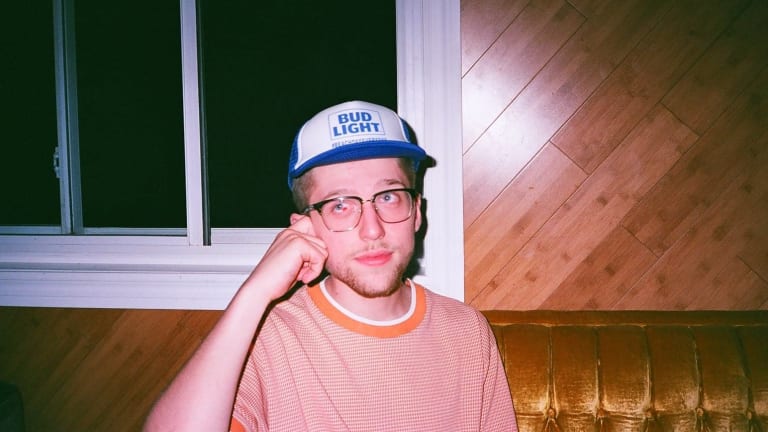 Maxd Presents Quirky Debut EP On Majestic Casual And Answers Some Dead Serious Questions [INTERVIEW]
The 20-year old artist is just getting started.
If you're not familiar with Maxd yet, don't miss out on his new EP Toothpaste & Orange Juice; you're in for a treat.
The 20-year-old Canadian artist started off just uploading tracks to Soundcloud and continued releasing with various labels from 2014 until last year. His well-sharpened production skills, as well as his over-the-top artistic maturity allowed for a change in 2017, that constantly evolved and is now finally sealed with his debut EP.
Fully showcasing Maxd's distinct style of quirky synths, vulnerable melodies and unorthodox arrangements, Maxd's debut collective work is a playful 7-track journey through a variety of moods, narrated by his numerous collaborators. 
"Mow", a collaboration with Defsharp kicks off the EP; a low-key banger that serves as the perfect introduction to the sonic madness that's about to follow. Futuristic electronica gems "Words" with EMIA and "Touch" featuring Austin Salter follow, as well as progressive, pop piece "Sleepy" with vocals from Adam Tell are the brightest tracks on the EP, a great contrast to the dark, psychedelic atmosphere of "Don't Close Your Eyes" with Osquello and the nostalgic feel of "Stuart" featuring rapper Lonemoon. "Damsel" serves as the EP's outro; a lo-fi beat flipped into a wonky trap banger. 
We had the pleasure of sitting down with Maxd to discuss his process behind the project, aliens, pizza and more. 
EDM.com: Who is Maxd? Give us some short info about yourself.
I am a 3rd-year University of Ottawa student and bedroom producer with big dreams. Anxious to get out of Ottawa and go somewhere where the music scene actually exists.
I'm color blind, I like beer, my favourite color is yellow, I don't quite know what I'm doing with my life just yet, and I'm ok with that.
Talk to us a bit about the EP and its creation. Why Toothpaste & Orange Juice?
Maxd: It's been quite the ride. I started it close to a year ago, when I started getting into working with vocalists. I really wanted to try something new and always thought it would be cool to actually make music people could sing along to for once. It's been super cool working with all the vocalists, everyone is so talented and genuine.
The EP is named Toothpaste and Orange Juice for a couple reasons really. First off, it's quirky, and I live for the quirk. Also, toothpaste and orange juice is a weird combination, just like how I thought my music would be a weird combination with vocals. Though I'd say it worked pretty well – orange juice and toothpaste on the other hand...
How has your creative process as an artist evolved over the years?
I used to sit down and try and recreate whatever my favourite deadmau5 or Feed Me song was at the time, and would end up missing the mark but coming up with my own thing in the process. That was super useful, I learned some really cool things trying to recreate stuff other people had made while not worrying about getting everything perfect. It would often turn into me making an entirely different song of my own, though you can definitely hear influences in a lot of my earlier stuff.
These days, I get this urge to make a song, always when I really ought to be doing something else (studying), and then just start making whatever comes to my head. I never end up making what I had originally planned. "Words" started off as a rap song I had with me on the vocals actually, but then I realized it was garbage and sent a really rough beat to EMIA, who ended up killing it.
Finishing a track in a day or taking 2 years to finish something?
Honestly, I used to spend way more time on tracks. I don't know if it's because my workflow is just better or I care less about the super little details, but now I find my favourite songs are the ones where I finish 80% in an evening. Unfortunately, now I finish the 80% in a few hours and get bored and never end up fully realizing the ideas, which is why I've found collaborations have been super cool for me lately. Really helps to get out of a rut.
When hanging out with the squad: serious, meaningful conversations about life and the universe vs all over the place and silly conversations about food and who got less sleep last night?
I'd say it's a good 10/90 split. Me and my friends are almost never serious unless you get too many beers in us and we all of a sudden get dumb introspective.
If aliens were to visit earth tomorrow, what will they look like?
They better all look like ALF or I'll be disappointed.
If the aliens were to destroy the world in 5 minutes, what would be the last song you'd listen to?
"The Bomb Song" by Darwin Deez, he's probably been my favourite artist since I discovered him a few years back. It's a good tune too.
Porter Robinson or Madeon?
Porter for sure, I listened to Worlds and Spitfire so much. Not to say Madeon isn't talented, his stuff just never grabbed me the same way.
Star Wars IV, V and VI, or I, II and III?
To be honest, I'm not the biggest Star Wars boy. And I'm pretty sure everyone else hated Episode I, but I loved the pod race scene and Darth Maul. Come on, the dude has a double lightsaber. So I gotta go with I, II, and III.
Pineapple on pizza! Yay or nay?
If you don't like pineapple on pizza it's just because your taste buds haven't fully developed yet. It'll come. That being said, plain cheese pizza is by far the king of 'zza.
Now that Toothpaste & Orange Juice is out, where do you think you can go from here? 
I think the move is going to be more music, I'm already working with some other artists on some things. Thinking about bringing my sound more into the hip-hop world. God, I love hip-hop music right now. I'd really love to try my hand at producing maybe. I think it'd be so cool to have a producer tag of Future saying something about how he'll shoot you if I don't trust you.
Where do you see yourself in ten years?
10 years from now? That's a while. Man, I can't imagine I'd not still be doing music. I think the coolest thing in the world would be if I could do this stuff full-time. But whatever happens, I know I'm gonna keep making music no matter what. 
Follow Maxd: Facebook - Instagram - Twitter - Soundcloud