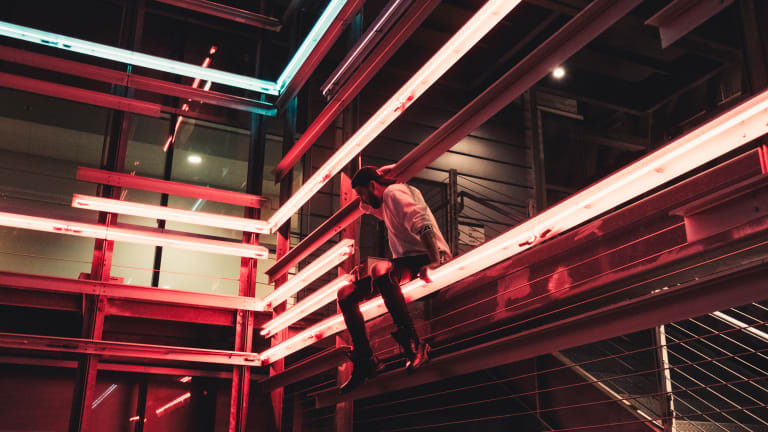 Mickey Valen and Blest Jones Are "Looking For Love" with New Lowly. Release
Producer Mickey Valen joined forces with singer/songwriter Blest Jones for an excellent new release on Trap Nation's Lowly. imprint.
Since his music debut in 2016, Mickey Valen has evolved from his original role as a full-time producer behind the scenes to being one of the freshest and exciting new voices at the forefront of the crossover between indie-pop and electronic music. Working closely with Trap Nation as one of the first artists signed to their Lowly. imprint, Mickey has rightfully earned his audience of millions of listeners per month and continues to be in high demand for major label projects around the world.
Following up on his 2017 releases with Lowly. ("Wildcard" and "Move That Body"), as well as his 2018 release with CloudKid ("Chills"), Los Angeles-based Mickey Valen has returned to the label for an exquisite collaboration with DC singer/songwriter, Blest Jones, who had this today about the process of writing the song:
"'Looking For Love' is a track that I wrote reflecting on a past relationship and remembering the moment we both first went out together. We had been friends before going out and felt a chemistry in the friendship that was more special than just a normal friendship, but neither of us knew what to think of it because we weren't sure how the other felt. We had both been out of a relationship for some time and had both been 'looking for love.' By the end of the night we were connected in a way that we've never felt because we were so close already. We soon realized that the love we were both looking for was right in front of us.

I tried to portray this story is a way that everyone could understand but still make a story out of it. After writing and recording the track I soon after sent it to Mickey Valen, an extremely talented producer based out of L.A. His production just made the message I was trying to write sound much more clear and understandable with the powerful yet lovely production he made.

Overall, this track is something I feel everyone can relate to. Love is universal and I wanted to capture the instant I made a commitment to someone who meant so much to me. I hope this song brings people back to the time when they first felt this way and realized why they love in the first place or inspires people to go out and find the love they have been looking for." 
Stream or Download "Looking For Love" today.
FOLLOW MICKEY VALEN:
Facebook: facebook.com/mickeyvalen
Twitter: twitter.com/mickeyvalenxy
Instagram: instagram.com/mickeyvalen
SoundCloud: soundcloud.com/mickeyvalen
FOLLOW BLEST JONES:
Facebook: facebook.com/blestjonesmusic
Twitter: twitter.com/BlestJones
Instagram: instagram.com/blestjones
SoundCloud: soundcloud.com/blestjones
FOLLOW LOWLY:
Facebook: facebook.com/LowlyPalace
Twitter: twitter.com/lowlypalace
Instagram: instagram.com/lowly
SoundCloud: soundcloud.com/lowlypalace