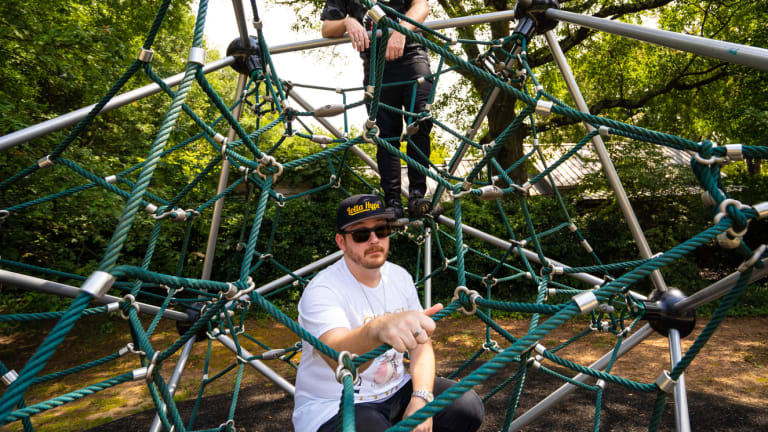 Find Your "Happy Place" with Modern Measure's New EP [INTERVIEW]
The diverse, five-track effort invites listeners to escape the constraints of everyday life.
Atlanta-based live electronica duo Modern Measure showcase their raw, eclectic style in their new vibrant five-track EP, Happy Place. It's out now on STS9's very own 1320 Records.
Since joining forces in 2013, Modern Measure (comprised of Kyle Holly and Charlie Thornton) have been on a mission to bring their unique and masterfully crafted music to stages around the world. The two together have carved a well-deserved spot for themselves in the industry for their fusion of live instruments and boundary-pushing sound design. Their dedication to their craft has earned them the support of industry-leading talent like Big Gigantic, STS9, and SunSquabi.
With three full-length studio albums under their belt, the duo rounded out their impressive catalog with Happy Place. The five-track EP highlights a tasteful shift in their sound, from glitchy electronica to a more immersive, vivid soundscape with shimmering synths. Happy Place invites listeners to escape their day-to-day routine and explore the unknown depths of their imagination.
"Happy Place touches on all the genres that have resonated with me throughout my life and has created a true sound for Modern Measure," said Holly. "It's amazing as a musician to hear something in your head, then be able to sit down and put all of the sounds together to create what you envisioned. Making something out of nothing in this sense is a real Happy Place."
EDM.com got a chance to speak with the duo about the making of Happy Place, as well as their ever-developing sound. Check it out below: 
EDM.com: Your hometown of Atlanta seems to be a major influential part of the Modern Measure's project. From an insider's perspective, what is the electronic scene in Atlanta like? How specifically has Atlanta influenced the way you produce and perform?
Modern Measure: "As life long musicians, Atlanta has always been an inspiring city, even before we moved here. When we were growing up in Alabama, we would come to Atlanta often to see concerts of all genres. One of the most inspirational & life-changing shows happened to both of us in Atlanta, and that was STS9 at the Tabernacle for their 2006 NYE run. We knew at that moment what career path we wanted to follow. However, we didn't personally know each other then. It wasn't until 2009 that we met in Auburn on one of Big Gigantic's first tours. Kyle spent a few years in college at Auburn University playing in his livetronica band and moved to Atlanta in 2011 because of the electronic scene. Charlie moved to Atlanta shortly after in 2012. It's a popular genre in ATL and one of the largest scenes in the country so that was appealing. Whenever we play in Atlanta, there's a certain approach to the show. We know what to do, and what not to do. I think a lot of that comes with having seen so many different shows in ATL over the years. Atlanta is a bass city, with roots deep in Hip Hop. That vibe and heavy bass feel is something that is special to us. We always try to have some knocking bass on the tracks."
You guys have 3 full-length albums, it's evident by your extensive, and equally impressive, discography you guys put in major work in the studio. How's a normal studio session look to you guys?
"Studio time is the most important time that a producer/musician can have in our opinion. Some of the first releases we put out took a long time to make. We were still learning a lot about producing music between 2013-2016. Since then, the process has become far more efficient. Kyle will start an idea by putting sounds together, save it to the dropbox, and then we'll collaborate on it. Charlie will also start ideas, and send them Kyle's way. It's a strong collaborative effort. Cherry Blossom, the single from Happy Place, is an organic collaboration that we started together in the spring of this year, with ATL based producer Daily Bread playing the bass guitar parts. Overall, we're constantly working on new ideas, no matter who begins writing the track."
So we know Happy Place is about escaping the sometimes harsh realities of day-to-day life, besides producing music what are some ways you guys find your Happy Place?
"Sports, nature, traveling, live shows from our fellow artist friends, and good food are the keys to our Happy Place. Kyle is a huge Atlanta sports fan as well as Auburn fan. Charlie is a big Alabama Crimson Tide fan, so we both enjoy having that outlet to follow. Growing up in Alabama, you're either an Auburn fan or an Alabama fam. We're a 'house divided', haha."
Were there any special or funny moments while producing any of the songs featured on the EP that specifically come to memory?
"One thing that comes to mind was how fun it was working on 'Field Trip.' It was January of this year and was so cold that month. We locked ourselves in the lab, and recorded a lot of the guitar, MOOG synth bass parts, and laid out the groundwork for the track. It was the perfect way to start the year 2019 in the studio.
'Blazer' started with the recording of my cat's meow, so that's pretty funny. The meow was in the natural key of B Minor, so the track was written in the key of B Minor. However, the cat meow audio sample was removed from the track. Just funny to think that's how that one came to fruition.
'Say Word' and 'Geisha' were produced on Kyle's laptop and at his home studio and were the first two tracks written for the EP. These two set the overall tone and feel for Happy Place."
Aside from the Happy Place EP, what do you want listeners to get out of listening to your music? What's the experience/feelings you're trying to evoke with live performance?
"We put our hearts into the music, so I think listeners will feel that emotion. A lot of the music has an uplifting feel, so we think that is easily conveyed. We just want people to leave the shows feeling happy, feeling better than when they walked in the room, and to help us share the message with other fellow music listeners and concert-goers. It's about having a positive experience overall. That's most important to us. "
Stream or download Modern Measure's new EP, Happy Place, out now on 1320 Records. 
FOLLOW MODERN MEASURE:
Facebook: facebook.com/modernmeasure
Twitter: twitter.com/modernmeasure
Instagram: instagram.com/modernmeasure
SoundCloud: soundcloud.com/modernmeasuremusic