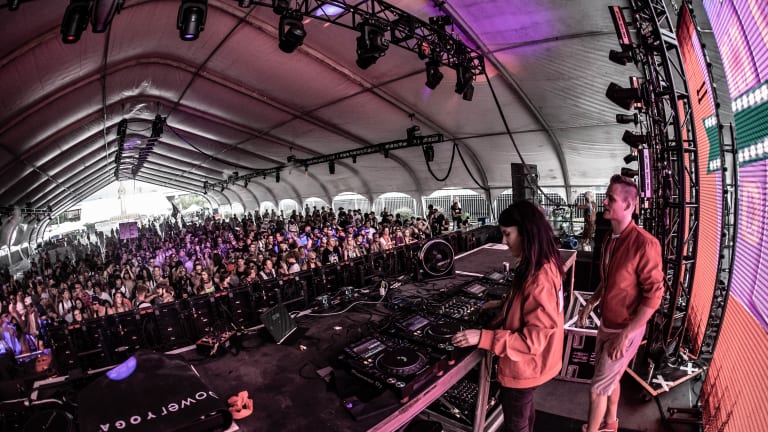 Fall in Love With Mom N Dad's Banging New Bass Ballad "Eros"
Midtempo bass with a sexy side as Mom N Dad continue their rapid ascent with the romantic new crowd killer "Eros."
A tale that stands the test of time, the ancient Greek story of Eros, the god of love and desire, has shifted and evolved many times over the ages. Most commonly, Eros is said to be the son of Aphrodite and Ares, an archetypical duality that highlights both the inherently aggressive nature of love as war (all is fair in love and war), as well as the passionate sensuality of love, lust, and beauty represented by Aphrodite.
This duality is exactly what Mom N Dad (real names Josh Oakley and Aviva Sonenreich) seek to portray in their heavy-hitting new original single "Eros." Embracing the aggressive and at times violent nature of Ares, the God of war, Mom N Dad bring to life their signature head-banging bass and furious, midtempo groove - a combination sure to shatter the heavens. Simultaneously paying homage to glorious Aphrodite, the goddess of love, "Eros" blends heavy bass with passionate, heartfelt lyrics about love, loss, and the nature of pleasure and pain - a stark contrast to Ares' otherwise ruthless sonic onslaught.
A combination that gave rise to all of existence, Mom N Dad have presented us with the gift of love in the form of their new song "Eros." After hearing their debut remix of Dillon Francis and Alison Wonderland's "Lost My Mind," we have no doubt that these parental units of bass music have plenty of family secrets yet to share. Satisfy your musical needs and soothe your body and mind with "Eros," a love song for the ages.
From the mouths of the rave parents themselves, "We've been so inspired by the limitless state of dance music. Eros knows no limits, and we look forward to continuing to dance that line!" 
Stream or download Mom N Dad's "Eros" today.
FOLLOW MOM N DAD:
Website: momndadtunes.com/
Faceboook: facebook.com/MomNDadTunes
Twitter: twitter.com/MomnDadtunes
Instagram: instagram.com/momndadtunes
SoundCloud: soundcloud.com/momndadtunes