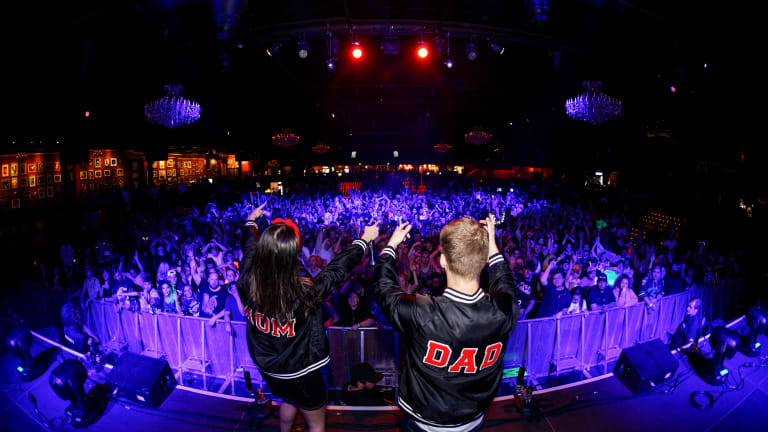 Mom N Dad Get The Family Dancing with Debut Single, "Move"
Colorado duo Mom N Dad premiere their debut single "Move" at The Fillmore in support of Slushii's Monster Energy Outbreak Tour.
In May of 2019, something spectacular happened in the Denver music scene. For years, music fans had been looking for a place to call home, a community built on love and respect, and most of all, a real musical family. Those hopes and dreams have now become reality, and the answer is Mom N Dad.
On May 4th, Mom N Dad took to the stage for the first time at The Fillmore, and the Denver family welcomed them with open arms. It's not entirely clear where they came from, but what we know for sure is that their music is out of this world. Their debut original, "Move," is laced with catchy vocal chops atop a bouncy, lighthearted melody and a raucous mid-tempo beat, all of which combine to create something entirely new - something prophetic, apocalyptic, and voluptuous.
We asked them a bit about where they came from, and they had the following to share with us:
"The year was 1958, the Busy Bee Cafe was hoppin' and the jive was alive. Mom, a single young cat found her self alone at the jukebox searching for a hot, new, sweet beat.

Just then, a strange, young greaser approached the jukebox. Mom hadn't paid much attention, but she did notice he was the ginchiest boy in the diner.

Mom reached to her pocket to grab a nickel as Dad dropped a nickel in the jukebox. They locked eyes. As Mom began to scroll through the Jukebox, an artist she had never seen popped up, Skrillex. Mom N Dad both immediately tapped the mysterious artist.

Just then, a shock surged through both Mom N Dad as they found themselves falling. The jukebox wasn't just a jukebox, it was a time machine. Mom N Dad found themselves in the time-space continuum.

Mom N Dad suddenly found themselves in 2019…"
If "Move" has you dancing, be sure to also check out their Valentine's Day single that was quietly uploaded to their SoundCloud in February:
FOLLOW MOM N DAD:
Website: momndadtunes.com/
Faceboook: facebook.com/MomNDadTunes
Twitter: twitter.com/MomnDadtunes
Instagram: instagram.com/momndadtunes
SoundCloud: soundcloud.com/momndadtunes