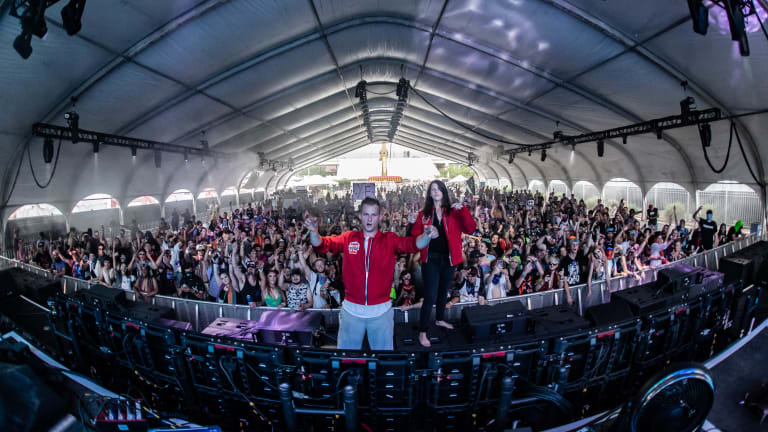 Mom N Dad Bring Nightmares To Life with Halloween Single "Night Terror"
Dark, gritty, and full of bass, Mom N Dad's haunting new single "Night Terror" sets the stage for their HARD Red Rocks performance.
In keeping with Halloween tradition, Colorado's resident masters of midtempo bass have gifted us with a spooky new single that you'd certainly never expect to come from your favorite electronic parental units. While most parents are helping their kids go to sleep at night, Mom N Dad have instead opted to take the opposite approach - providing their fans with an extra helping of bass-inspired nightmares designed to keep them awake and partying all night long.
Aligned with their well-established sonic aesthetic, "Night Terror" is both dark and heavy, and it's interlaced with an eery yet nostalgic melody that will keep you rapt with attention on the very edge of your seat. If you're looking to take a nice nap, "Night Terror" might not be the best choice for a sleepy-time lullaby. On the other hand, if hard-hitting bass with a funky groove and a sinister ambiance sounds like a perfect musical lead for a wild Halloween-themed party, you've come to just the right place.
Stream or download "Night Terror" today.
if you live in Colorado, be sure to check out Mom N Dad at their debut Red Rocks Amphitheatre performance for HARD Red Rocks. They'll be performing alongside Gramatik, Kayzo, Ghastly, Tom Morello, and Ducky - quite the lineup for these rapidly rising Denver midtempo pioneers. Get your tickets now.
FOLLOW MOM N DAD:
Website: momndadtunes.com/
Faceboook: facebook.com/MomNDadTunes
Twitter: twitter.com/MomnDadtunes
Instagram: instagram.com/momndadtunes
SoundCloud: soundcloud.com/momndadtunes