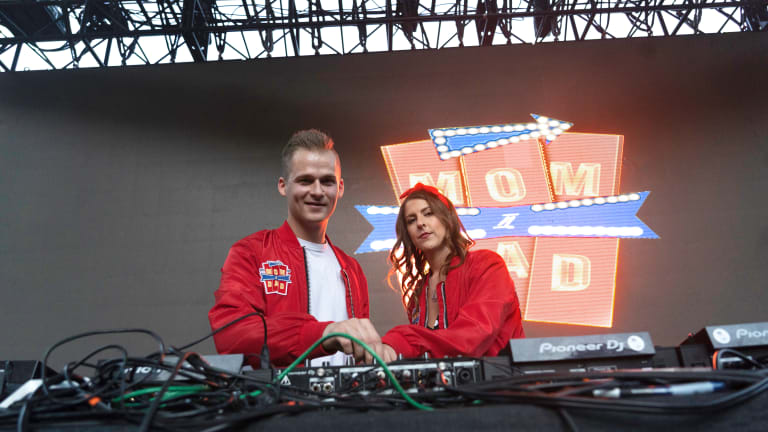 Mom N Dad's Mega-Anticipated EP, Mom N Dadville, Has Finally Arrived
Mom N Dad's debut EP packs more junk in the trunk than your mother's family van could ever handle.
Mom N Dad are breathing new life into the midtempo bass genre. You may have caught them commanding the stage at Global Dance Festival or HARD Red Rocks looking like a time machine spit them straight out of the '50s, or maybe you've found a few of their kitschy, party-parental posts on social media. If you haven't done your homework on the colossal midtempo sounds of this fastest-rising duo, listen up (or you're grounded). Mom N Dad's EP, Mom N Dadville, has arrived, and it's a total trip of seven otherworldly tunes.
Mom N Dad's 2019 debut came in hot, landing them on giant festival lineups straight out of the gate. In less than six months, they've covered a massive amount of ground, serving up one banging remix after another for names like Dillon Francis, ATLiens and Adventure Club while simultaneously raising a huge family of fans surrounding their original music. From their homemade fanbase in Denver, Colorado to their listeners worldwide, Mom N Dad stay committed to keeping the show rolling with consistent high-octane releases as their legacy grows far bigger than typical "family size."
Jump in the front seat and crank up the volume for Mom N Dadville. You'll wish your real parents could party like this.
Stream or Download Mom N Dad's Mom N Dadville EP today.
FOLLOW MOM N DAD:
Website: momndadtunes.com
Faceboook: facebook.com/MomNDadTunes
Twitter: twitter.com/MomnDadtunes
Instagram: instagram.com/momndadtunes
SoundCloud: soundcloud.com/momndadtunes