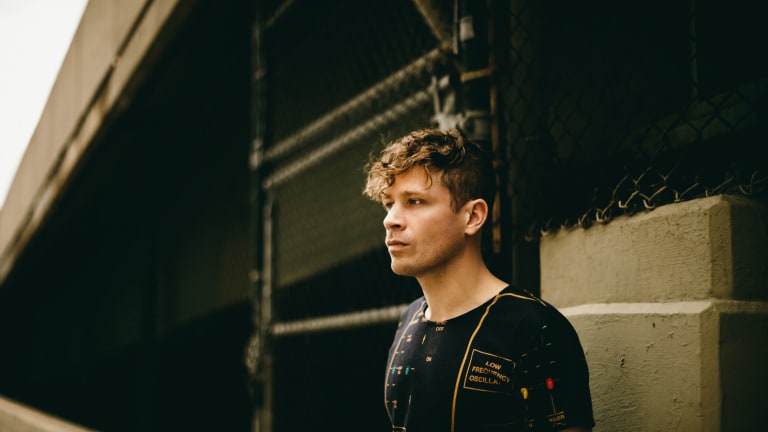 Moon Boots Releases First Single "Tied Up" off Forthcoming Sophomore Album
"Tied Up" is just a taste of what's to come from Moon Boots' second album, Bimini Road.
After his recent exploration of psychedelia with the Keramas / Harpanet EP, Moon Boots is returning to his house roots with the new single "Tied Up," out now on Anjunadeep. The track, which alludes to the bondage love creates, is the lead single from his highly anticipated second album, Bimini Road. 
Inspired by barbershop harmonies and early Pharrell, Moon Boots and his good friend Steven Klavier teamed up to deliver the unforgettably smooth and groovy single. Together these two Brooklyn natives created a funky, melodic sound that only reinforces Moon Boots' mission to make music that is suitable anytime, anywhere and for anyone. His unpredictable and compelling approach continues to shine through with each project he releases, and fans can expect his next album to be a mixture of attention-grabbing hooks, catchy vocals, and infectious beats.
A blend of soulful house, disco, and R&B, Bimini Road will feature some familiar friends as well as new collaborators for Moon Boots. Nic Hanson, KONA and Black Gatsby will all make reappearances from his successful debut album First Landing, which has amassed over 35 million streams since it's release in the summer of 2017. Bimini Road falls nothing short of impressive with features from Niia, Kaleena Zanders and Gary Saxby.
One of the most beloved songs off of First Landing, "Power," which includes the inspirational vocals of Black Gatsby, was recently the featured song behind the United Nations International Children's Emergency Fund (UNICEF) campaign to end child marriage. Their campaign also promotes schooling for young girls and women in Niger, which has the highest rate of child marriages in the world. Learn more about UNICEF's fight to end child marriage here. 
Fans will be afforded the full Moon Boots experience on his 25-stop live tour. Kicking off in Milwaukee, Wisconsin, Moon Boots will make appearances across the United States and Canada before finishing in London on October 25th. All shows will go on sale on July 12th at 10:00 AM (PST). For more information, visit here.
Stream or download Moon Boot's new single "Tied Up" today. 
FOLLOW MOON BOOTS:
Facebook: facebook.com/moonbootsmusic
Twitter: twitter.com/moonbootsmusic
Instagram: instagram.com/moonbootsmusic
SoundCloud: soundcloud.com/moonbootsmusic
FOLLOW ANJUNADEEP:
Facebook: facebook.com/anjunadeep
Twitter: twitter.com/anjunadeep
Instagram: instagram.com/anjunadeep
SoundCloud: soundcloud.com/anjunadeep