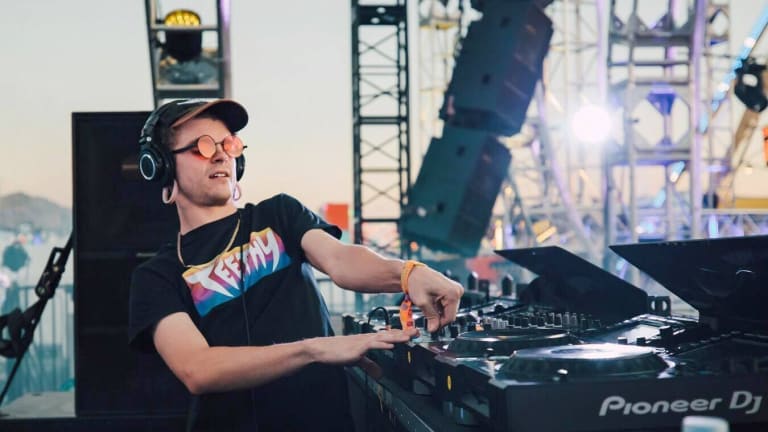 Morelia Brews Up Piping Hot House Track "Caffeine" via Teethy
Label head Morelia gives us the impressive third installment to his freshly founded imprint, Teethy.
Coming hot out the gates with his last two singles "Dafuq" and "Fun Box" at the start of the summer, Morelia has demonstrated a clear intent to brighten the world with his unique and atypical approach to house music. On top of refreshingly unique sets, a rigorous release schedule, and pursuing two separate personas (Mannequin being his other alias), he is also the label head of the newly founded Insomniac Records imprint, Teethy. 
In his third and latest addition to the Teethy catalog, Morelia (real name Tanner Munn) continues to show off his bold new style with the record "Caffeine."
Clocking in at just over six minutes, "Caffeine" is an amped-up, groovy track sure to get temperatures rising. Filled with whirring textures, rumbling bass, and trippy sound design elements to top it off, this track is an experimental house lover's heaven.
"This track took a few trial and errors to really nail what I was going for," said the 22-year old producer. "I tested the first version out at a club and it hit, but not in the way I was hoping for. When I went to rework it, I found a vocal sample that was initially useless, but after chopping the hell out of it, I turned it into a hypnotic vocal loop that I loved, and BOOM! 'Caffeine' came to life."
Between partnerships with legendary labels such as Insomniac Records and Dirtybird, as well as widespread support from A-list EDM acts, Morelia has lit a fire within the house community that cannot be contained. The Dallas-born producer quickly asserted himself as something unique and out of the ordinary, and has subsequently has made his way across iconic dance music stages such as Nocturnal Wonderland, Countdown, and EDC Las Vegas.

His next upcoming performance will commemorate the release of "Caffeine." To celebrate, Morelia is hosting a release party on August 6th in Huntington Beach, California, where he will be joined alongside Luke Andy, Ocean Roulette, and Boondok. 
For ticketing information, visit here. 
Stream or Download Morelia's "Caffeine" today. 
FOLLOW MORELIA:
Facebook: facebook.com/moreliaofficial
Twitter: twitter.com/MoreliaOfficial
Instagram: instagram.com/moreliamusic
SoundCloud: soundcloud.com/morelia
FOLLOW TEETHY:
Facebook: facebook.com/teethyrecords
Twitter: twitter.com/teethyrecords
Instagram: instagram.com/teethyrecords
SoundCloud: soundcloud.com/teethyrecords
FOLLOW INSOMNIAC:
Facebook: facebook.com/InsomniacRecords
Twitter: twitter.com/insomniacrecs
Instagram: instagram.com/insomniacrecs
SoundCloud: soundcloud.com/insomniacrecords