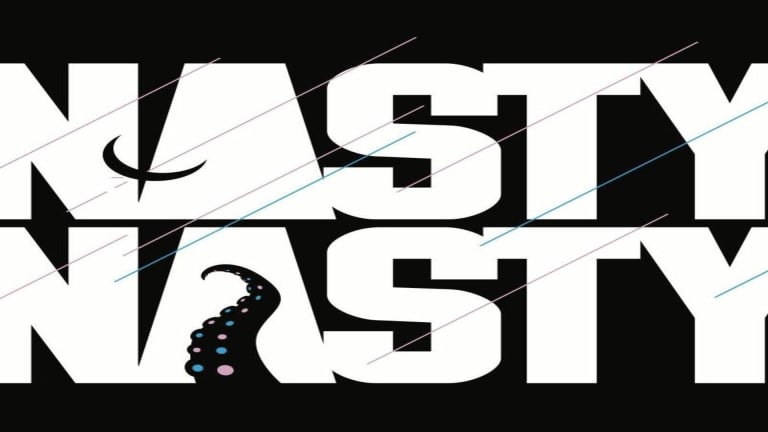 NastyNasty, from Lazer Soul to Hideous Mask
Finding order within chaos, the NastyNasty experience.
We first discovered NastyNasty through his Laser Soul mixtape, released in September of 2010. Dubstep was starting to gain real traction in North America, and an era in which electronic music utterly captivated youth culture was on the rise. 
Glitch-hop and West Coast bass were tossed around as descriptors for this newly emerging style. Artists such as NastyNasty were on the forefront of this movement, both in terms of ingenuity and uniqueness, as well as rising notoriety amongst fans.
From the beginning, NastyNasty was nonconformist to the extreme. Many artists had begun to focus almost entirely on sound design, beginning the race to create the loudest, heaviest, most brutal sounds imaginable. Other artists focused almost entirely on devising bizarre and unconventional rhythms with exquisitely intricate detail work and slowly evolving progressions, trending towards the already existing "IDM" (Intelligent Dance Music) genre.
NastyNasty combined these elements, fusing his consummate and highly unique analog synth work with an understanding of how to interweave thoroughly captivating melodies. Few artists at the time pursued this odd combination of the bizarre and the beautiful, and NastyNasty was an undeniable leader of the pack.
In December of this year, the NastyNasty project turns 10 years old. The Hideous Mask LP is a triumphant commemoration of this outstanding artistic achievement - a testament to the project's brilliance, longevity, and flair.
In a world where industry pressures always push artists towards digestibility and conformity with mainstream trends, NastyNasty has consistently bucked this paradigm. Additionally, he has taken on the role of flag bearer for those who embrace the freedom of creativity in it's purest form, "without compromising or sacrificing expression in favor of digestibility," according to him. He went on to say:
"I have a lot of emotions invested in electronic music. Artists like Venetian Snares and Squarepusher were my soundtrack to becoming an adult. I was enraptured in the diaspora of flavors found in the nebulous "experimental electronica" section of Amoeba Records in Berkeley. While I'm grateful that electronic music has finally garnered some respect in America, I still feel like there's so much more to be done, even within the genres that have made it through the gate."
Drawing influence from a wide variety of disparate influences such shoegaze, metal, and "even the sciences themselves", NastyNasty is a testament to music's power to take seemingly incompatible concepts and create from them something transformative and wonderful. Hideous Mask is the latest iteration in NastyNasty's quest to champion the oddly beautiful and the exquisitely hideous. "I feel like the album sounds like what would happen if dubstep fell into a cave in 2008 and had to evolve into awkward specific lifeforms, equipped to survive in an altogether different environment," he has said.
Hideous Mask slipped quietly into our collective consciousness on November 2nd of 2018, and it is highly deserving of your attention. Love it or hate it, NastyNasty explores the darkest depths of electronic music. He will take you on a journey you won't soon forget.
With the support and guidance of the legendary DJ Shadow and his Liquid Amber label, we finally have a chance to dive into a full-length NastyNasty album, and we couldn't be more excited!
Let go of your expectations and prepare to embrace an immersive audio experience like no other - discover what is hidden behind NastyNasty's Hideous Mask. Stream or download the EP across platforms here.
FOLLOW NASTYNASTY:
Facebook: https://www.facebook.com/NastyNastyBass
Twitter: https://twitter.com/Nastysounds
Instagram: https://www.instagram.com/nastysounds
SoundCloud: https://soundcloud.com/jaspey
FOLLOW LIQUID AMBER:
Facebook: https://www.facebook.com/LiquidAmberMusic
Twitter: https://twitter.com/liquidamber100
Instagram: https://www.instagram.com/liquidambermusic
SoundCloud: https://soundcloud.com/liquidambermusic