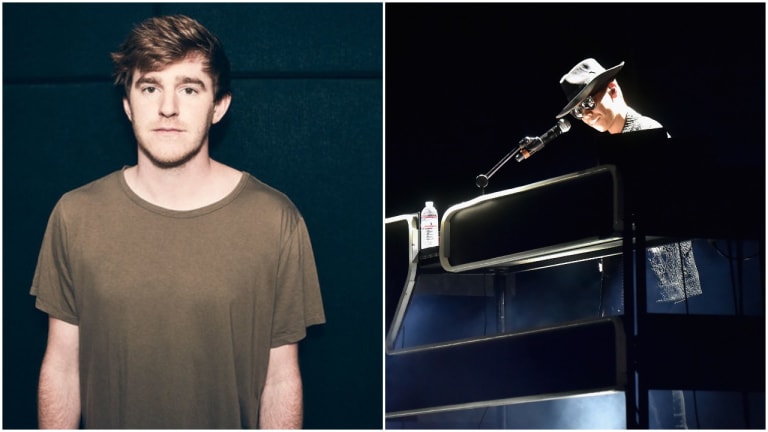 NGHTMRE and ZHU's Collaboration "Man's First Inhibitions" Has Arrived
NGHTMRE & ZHU's collaboration finally sees the light.
NGHTMRE and ZHU's collaboration "Man's First Inhibitions" arrived in full today with vocalist Kidd Keem. Though the two producers derive influences from opposite ends of the sonic spectrum, "Man's First Inhibitions" sees the two unite under a mutual appreciation for the track's dark and moody themes. 
NGHTMRE tells Hypebeast he's been looking up to ZHU from the start. The two first came into contact when NGHTMRE famously remixed ZHU's single with Ekali, "Blame." The respect was mutual and shortly thereafter the two began sharing ideas for an original release together. 
The earliest version of their collaboration first saw the light in April during NGHTMRE's encore at Space Yacht. Following that initial test run, the track was still ultimately kept close to the chest by both producers. However, it eventually saw the light again during NGHTMRE's recent Moonrise Festival set. 
Now that it's officially out, "Man's First Inhibitions" is primed for the spotlight as both artists continue to tour heavily. The track comes as perfect timing for NGHTMRE especially, who is preparing to embark on the Alchemy Tour with Slander, Seven Lions, and The Glitch Mob, starting in early September.
FOLLOW NGHTMRE:
Facebook: facebook.com/nghtmre
Twitter: twitter.com/NGHTMRE
Instagram: instagram.com/nghtmre
SoundCloud: soundcloud.com/nghtmre
FOLLOW ZHU:
Facebook: facebook.com/zhu
Twitter: twitter.com/ZHUmusic
Instagram: instagram.com/zhu
SoundCloud: soundcloud.com/zhu