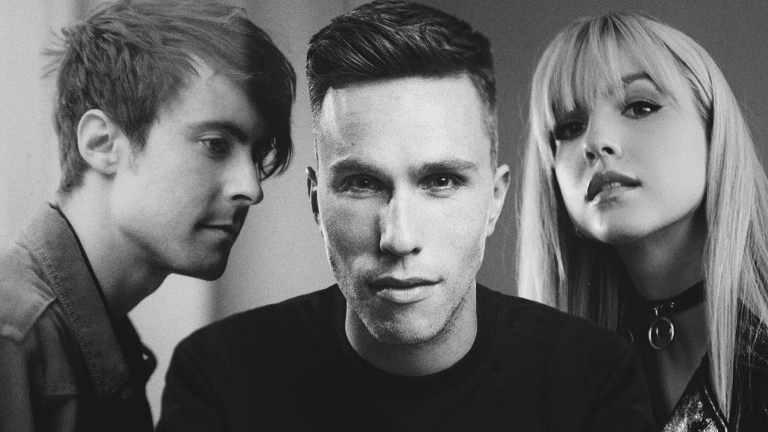 Nicky Romero and DallasK Release Music Video for "Sometimes" ft. XYLØ
The video brings to life the dilemma of being with someone new but still thinking about your ex.
A few months ago, Dutch superstar Nicky Romero teamed up with L.A.-based producer/singer/songwriter DallasK and L.A.-based singer/songwriter XYLØ on the track "Sometimes". The track, though upbeat in tempo, tells a message of conflicting feelings. The crossover track was brought to life visually by director Nic Stanich who portrayed the struggle of thinking about your ex when you are with someone new in the current social media-dominated era. 
The video portrays a pair who both can't help but scroll through their past lover's pages, hopelessly remembering the good times. "When I wrote this song, I focused on the lingering thoughts left over from a past relationship," said DallasK (real name Dallas Koehlke). "And in the video, I wanted to capture exactly that. Those remaining memories drive the feelings that haven't found a home yet in either your past or present."
Nicky Romero (real name Nick Rotteveel van Gotum) is currently on his "Redefine" 2019 world tour. The Protocol Recordings label head will close it out at the end of this month. He recently teamed up with Florian Picasso on the track "Midnight Sun."  The versatility of this talent is the reason he's been able to stay so prevalent throughout this wide-spanning career. 
This isn't Koehlke first major collaboration. He is credited co-writing and producing Fifth Harmony's five-time platinum single "Work From Home" featuring Ty Dolla Sign, as well as their singles "Down" and "He Like That…" off their self-titled album. He has also written for Tiësto, Hardwell, and Zedd.
FOLLOW NICKY ROMERO:
Facebook: facebook.com/djnickyromero
Twitter: twitter.com/nickyromero
Instagram: instagram.com/nickyromero
SoundCloud: soundcloud.com/nickyromero
FOLLOW DALLASK:
Facebook: facebook.com/DallasKMusic
Twitter: twitter.com/dallask
Instagram: instagram.com/dallask
SoundCloud: soundcloud.com/dallask
FOLLOW XYLØ:
Facebook: facebook.com/XYLO
Twitter: twitter.com/xylo
Instagram: instagram.com/xylo
SoundCloud: soundcloud.com/xylo