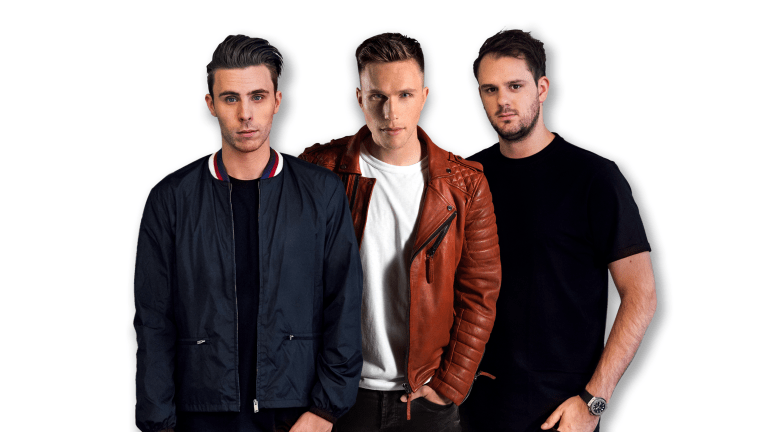 Nicky Romero and W&W Drop New Festival Season Anthem "Ups & Downs"
Dutch powerhouses Nicky Romero and W&W collaborated on the big room house anthem "Ups & Downs."
Nick Rotteveel van Gotum, known professionally as Nicky Romero, paired up with duo W&W for the latest progressive house anthem, "Ups & Downs." The Dutch DJs bring a bouncing bass line to what will most likely be a 2019 festival season instant classic.
Until the release of "Ups & Downs," Romero has teased the collaboration in his sets, most notably during his "Nicky Romero & Friends" showcase during Amsterdam Dance Event. W&W joined the set for a surprise live collaboration.
The song leverages the big room house sound in which both artists have carved their niche. Any raver, main stager or not, will likely resonate with the simple lyrics and euphoric drop. 
This release is on the heels of Romero's previous single, "Sometimes" with DallasK and XYLØ, and the announcement of his world tour, Redefine. Romero has been on the road since March 29 that kicked off with his Ultra Music Festival main stage performance.
Like Romero, W&W have been forerunners in the EDM scene, even nabbing the #14 spot in DJ Mag's Top 100 DJs poll for 2018. The Dutch duo recently launched their own label, Rave Culture. 
Expect the label to release some music this summer. In the meantime, catch Nicky Romero on this world tour at the dates below. 
4/18- Zouk - Kuala Lumpur, Malaysa
4/19 - Songkranzonic - Pattaya, Thailand
4/20 - Club Chroma - Seoul, South Korea
4/27 - Kingsland - Den Bosch, The Netherlands
4/27 - Kingsland - Rotterdam, The Netherlands
4/27 - Slam Koningsdag - Alkmaar, The Netherlands
5/04 - Desert Day & Nightclub - Rishon Letzion, Israel
5/16 - Jewel - Las Vegas, NV
5/18 - Marquee - New York, NY
5/24 - Epic - Prague, Czech Republic
5/25 - Emporium Festival - Wijchen, The Netherlands 
5/31 - Barranco Arena C.C - Lima, Peru
6/1 -  Laroc - São Paulo, Brazi
6/8 - Big City Beats - Frankfurt, Germany
6/8 - Frestival - Enschede, The Netherlands
6/14 - Hakkasan - Las Vegas, NV
6/15 - Harbour Event Centre - Vancouver, Canada
6/22 - A Summer Story - Madrid Spain
6/25 - Secret Forest Festival - Groningen, The Netherlands
FOLLOW NICKY ROMERO:
Facebook: facebook.com/djnickyromero
Twitter: twitter.com/nickyromero
Instagram: instagram.com/nickyromero
Soundcloud: soundcloud.com/nickyromero
FOLLOW W&W:
Facebook: facebook.com/wandwofficial
Twitter: twitter.com/WandWmusic
Instagram: instagram.com/wandwmusic
Soundcloud: soundcloud.com/wandw