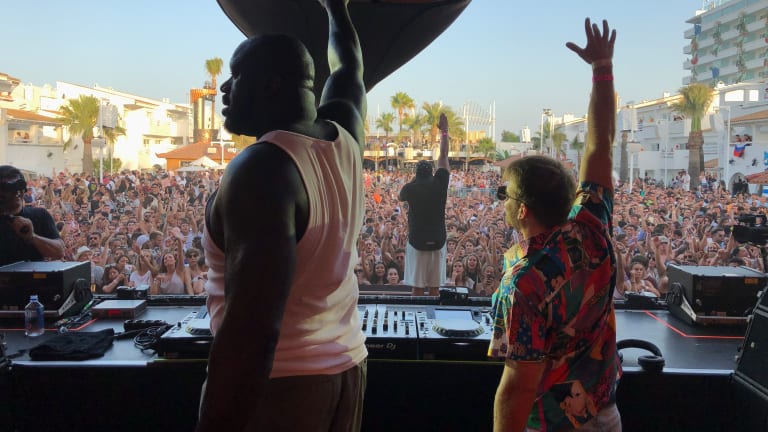 Nitti Gritti Teams Up with Shaquille O'Neal on "Takin' Over"
Shaq's has revealed that his fan-favorite ID from Ultra Music Festival is the hot new single, "Takin' Over"
Nitti Gritti has teamed up with the legendary Shaquille O'Neal on something huge.
EDM fans worldwide remember screaming their heads off when Shaq took the stage during SLANDER and NGHTMRE's back-to-back set this year at Ultra Music Festival, dropping a huge bass banger of his very own. What was that track ID? Finally, it's out for the world to spin. 
After much anticipation, Nitti Gritti and Shaquille O'Neal have released "Takin' Over," an absolute bass beatdown that could've snapped the front fan rails in half at every big show that booked Nitti Gritti or Shaquille O'Neal (also known as DJ Diesel) over the past few months. As the lyric suggests they're taking over, and with a track this powerful their force is unstoppable. If you're a bass music DJ, "Takin' Over" is undeniably necessary for your party arsenal - but don't stop there. "Takin' Over" is one of several tracks on Nitti Gritti's forthcoming EP, What a Time to Be Alive, which is set to drop later this winter.
Nitti Gritti has the world in his hands right now after blazing through the last few years with one gigantic festival performance after another. A prime example is his much-heralded and packed-out EDC Las Vegas set this year. All eyes were on Nitti Gritti when Sirius XM began flooding the airwaves with repeated plays of his release "Eyes on You," which amplified his enormous fan base, pushing him further toward his current takeover status. 
Nitti Gritti and Shaquille O'Neal are in perfect star alignment with their knockout single, which rounds out Nitti Gritti's discography quite well. His former collaborations include other megastars such as Enrique Iglesias, Diplo, Major Lazer, Skip Marley, and Bad Bunny. Hold on tight when you cue up "Takin' Over," it'll hit you hard.
Stream or Download Nitti Gritti and Shaquille O'Neal's "Takin' Over" today.
FOLLOW NITTI GRITTI:
Facebook: facebook.com/djnittigritti
Twitter: twitter.com/DJNittiGritti
Instagram: instagram.com/djnittigritti
SoundCloud: /soundcloud.com/nittigritti