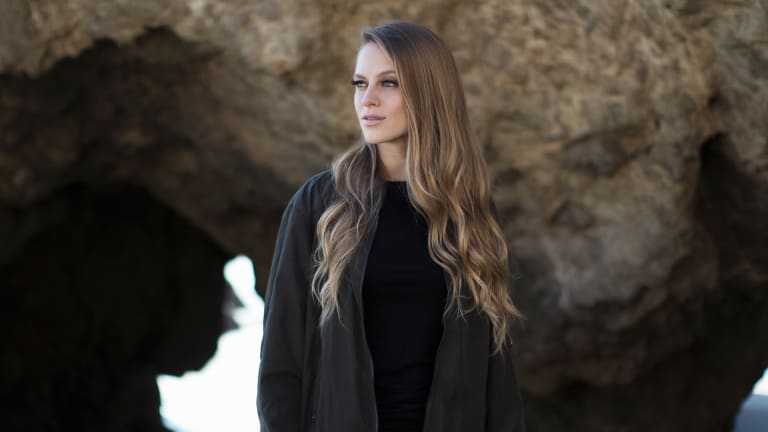 "We Found Love" In Nora En Pure and Ashibah
A romantic deep house track right in time for Valentine's Day.
Nora En Pure (real name Daniela Di Lillo), the South African-Swiss queen of deep house, is starting 2019 off with an uplifting new track titled "We Found Love" featuring vocals by Danish/Egyptian singer Ashibah. Need a track to show that special someone how you feel? This is the jam for you. 
The track, which was released on Spinnin' Records, opens with Ashibah's soulful vocals and delicate strings. Di Lillo has perfected the art of melodic house with this one. As the verse progresses, the filter opens on the synth and the sound gets brighter and brighter leading into the more driving section with the additions of pulsing repetitive strings and a clap sample. The instrumentation builds towards a four-on the floor drop accompanied by catchy string stabs. The second verse keeps the kick groove, making the song flow nicely altogether. With immense character and emotion, the track is a real home run for both artists. 
With her globally adored release "Tears In Your Eyes" garnering well over 13 million streams on Spotify alone, Di Lillo's latest addition to her back catalog delves into familiar territory. Having experimented with deeper, club-focused sounds in her nature-inspired Polynesia EP last year, she effortlessly showcases her versatility by floating back up to a lighter style of dance music with "We Found Love." Gearing up to get back on tour, Di Lillo has already been announced for some of the most important dates in the global dance music diary, including her 2019 return to Coachella and Ultra Music Festival.
Ashibah's first big collaboration was in 2013 with Kolombo, laying down vocals on his "Wade of Water" remix that ended up on all charts that summer. Over the years, she has collaborated with artists like Purple Disco Machine, Robosonic, Sharam Jey and Jean Bacarreza. This year her career is accelerating with several releases and her own EP series signed this fall.
FOLLOW NORA EN PURE:
Facebook: https://www.facebook.com/NoraEnPure
Twitter: https://twitter.com/NoraEnPure
Instagram: https://www.instagram.com/noraenpure/
Soundcloud: https://soundcloud.com/noraenpure
FOLLOW ASHIBAH:
Facebook: https://www.facebook.com/ashibahmusic/
Instagram: https://www.instagram.com/ashibah/
Soundcloud: https://soundcloud.com/ashibah