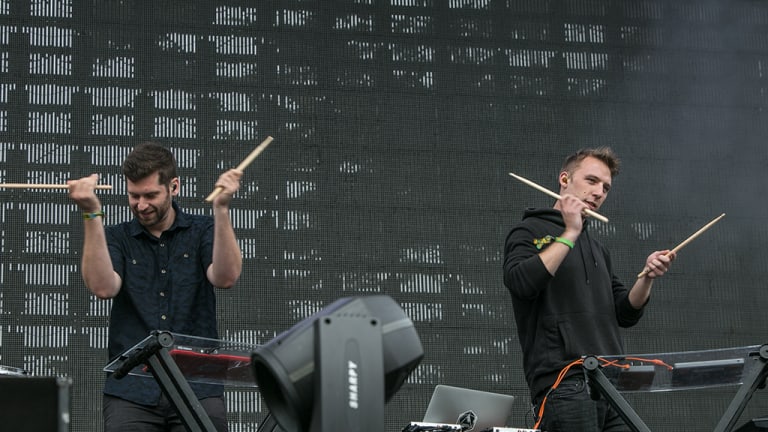 ODESZA Release VIP of "It's Only," Announce Deluxe Edition of A Moment Apart
New from the Seattle boys!
Seattle chillwave band, ODESZA, have announced the deluxe version of their Grammy-nominated album A Moment Apart. They've also released the studio version of their live edit of "It's Only."
A Moment Apart was the third studio album from ODESZA (real names Harrison Mills and Clayton Knight). It was critically acclaimed and reached #3 on the Billboard charts. The deluxe version of the album will feature nine tracks including the "It's Only" VIP, their recently released single "Loyal," and other remixes and reprises.
The aforementioned VIP is a rework to a fan favorite from their second album, In Return. Unlike the original version's downtempo aesthetic, Mills and Knight's grandiose VIP turns up the volume and features significantly more drums, akin to the drum line they perform alongside at their shows. The mood shifts from chill to dramatic as the latest version is a nearly nonstop buildup that reaches its zenith by way of uplifting keys. 
The VIP has typically served as the closing track to many of ODESZA's performances. Before today, the only way fans could hear the rework was at one of their shows or from cell phone videos on YouTube.
"It's Only" ft. Zyra (ODESZA VIP REMIX) is out now on Foreign Family Collective. 
H/T: Riverbeats
FOLLOW ODESZA:
Facebook: https://www.facebook.com/Odesza/
Twitter: https://twitter.com/odesza
Instagram:https://www.instagram.com/odesza/
SoundCloud:https://soundcloud.com/odesza