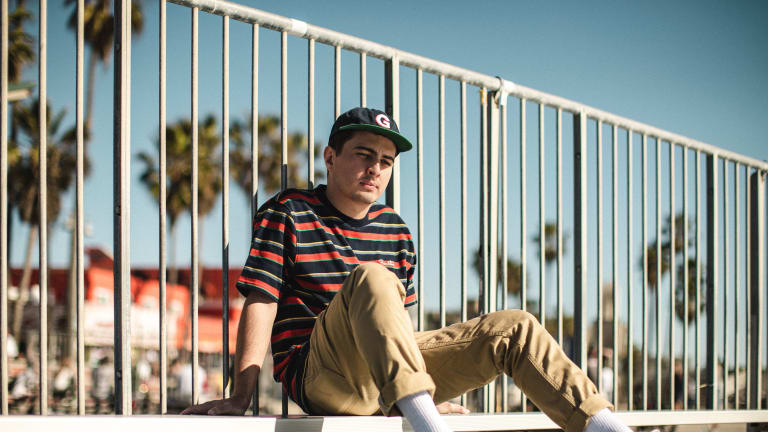 OMNOM Captivates with Trippy House Single "Number One Fan"
OMNOM has officially released one of the most recognizable tracks from his live sets on Strangelove.
Since his forceful breakout in 2017, OMNOM (real name Cody Lee) has been captivating audiences worldwide with his unmistakable, atypical brand of house. One of the most standout tracks in his live sets, "Number One Fan," is his latest release, out now on the mysterious indie label Strangelove.
"Number One Fan" embraces the unconventional sound for which Lee is commonly known. Filled with wonky, extraterrestrial production elements, peculiar vocals, and an addictive beat, it's unsurprising the track has been, no pun intended, a fan favorite. Similar to his massive 2018 Dirtybird single "Fo Free," which is currently sitting at just under 700,000 streams across Spotify and SoundCloud, "Number One Fan" features alluring yet oddly infectious lyrics. Besides vocals that will make you keep this track on repeat, listen closely as the L.A.-based producer adds subtle yet effective details to each of his tracks. 
This unapologetically unique sound has defined Lee's career over the past two years. In this short amount of time, he has released on reputable labels such as This Ain't Bristol and Insomniac Records, as well as performing on prestigious stages across the world. His most recent high-profile performance was at Electric Forest, and fans have been quick to shower well-deserved praise across all his social media platforms. 
In addition to building a cult following, Lee has earned the respect of house music icons such as Claude VonStroke, FISHER and Walker & Royce, the latter of whom recently featured him on their Rules Don't Apply radio show. For fans wanting to experience his immersive sound live, he will make tour stops across North America all summer.
OMNOM Tour Dates:
July 26 - The Parish - Austin, TX
July 27 - No Neon Boat Party - Toronto, ON
July 28 - Piknic Electronik - Montreal, QC
August 3 - HARD Summer - Fontana, CA
August 10-11 - Moonrise Festival - Baltimore, MD
August 17 - QC Social Lounge - Charlotte, NC
August 30 - Electric Zoo - New York, NY
Stream or download "Number One Fan," out now on Strangelove.
FOLLOW OMNOM:
Facebook: facebook.com/imOMNOM
Twitter: twitter.com/imOMNOM
Instagram: instagram.com/imOMNOM
SoundCloud: soundcloud.com/omnom