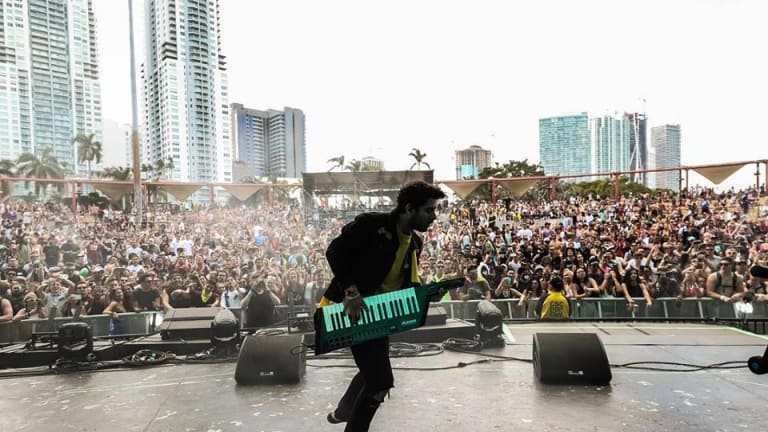 OOKAY Brings the Sunshine with New Single "Help Me Out" [LISTEN]
After recently crushing it at Ultra Miami, this new single puts us one step closer to the release of his album.
California-based DJ, producer, vocalist, and musician OOKAY has been releasing one innovative single after the next.  When OOKAY first entered the music scene, he was creating music that could be categorized as a new, high-energy style of house music.  His freshman and sophomore releases on Ultra Records ended up charting in the top 10 on Beatport, and then he skyrocketed into the industry.
As his style progressed, he gained influence from names such as Borgore, Diplo, and Valentino Kahn.  He also teamed up with the duo Showtek for their 2014 single "Bouncer" which became a summer staple at festivals around the country.  In 2016, he released one of his most popular tracks ever, "Thief", which has over 37,000 streams on Spotify alone.
Currently, it's hard to place his music into just one genre. Each song is slightly different from the next and wraps pop, house, and hard-hitting trap all into one. Plus, did we mention his dreamy vocals that accompany almost every track?
Over the course of the past few months, OOKAY has kept us on our toes with various releases from his upcoming album (which is 100% finished by the way).  In September of last year, he released his collab with Fox Stevenson titled "Lighthouse", which was followed by "COOL" and "Loved or Lost".  His most recent single off of the album was released just last week and is called "Help Me Out".
This energetic, bouncy track begins with soft synths, piano, and OOKAY's signature vocals.  The song picks up the pace during the chorus, when "can someone help me out?" is repeated.  The instrumental break consists of a high-pitched melody accompanied by percussion and is the perfect blend that's guaranteed to get stuck in your head.  Stylistically, there are a lot of similar elements when compared to his last few singles and we're not complaining one bit.  
To listen to the song in full (we recommend rolling down your car windows or playing this poolside), listen below or click here for more options.
OOKAY is no stranger to playing countless venues and festivals worldwide.  This summer, he'll be at Shaky Beats Music Festival, EDC Las Vegas, Summer Camp Music Festival, Firefly Music Festival, Osheaga 2018, and Chasing Summer 2018 in addition to making a stop at Red Rocks Park and Amphitheatre on June 3rd to perform with Marshmello.  For a full list of dates, head on over to his official website.
If you have the chance to catch one of his sets this summer, we highly recommend it.  Recently, he has been in the process of revamping his live set to include live vocals, percussion, drum pads, keyboards, and his iconic keytar.
To keep up with OOKAY this summer, follow him on Facebook, Twitter, and Instagram.