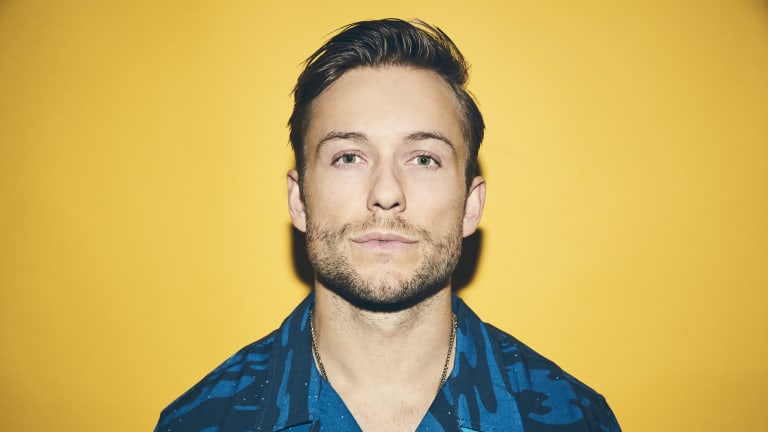 Party Favor and Nonsens Light a Fire with "Gasoline"
This is only the start of what Party Favor's unleashing this fall.
Party Favor (real name Dylan Ragland) has teamed up with Danish trio Nonsens (real names Anton Nielsen, Jens Espersen, and Rasmus Korsby) to release their high-energy collaboration, "Gasoline." It's out via Ragland's Area 25 imprint. 
Utilizing both artists' distinct sounds, "Gasoline" burns bright from front to back. Bright synths get the fire going, leading into a percussion-laden build up. Things really heat up when the tune reaches its drop, as distorted bass and scattered samples blow the lid off any expectations the listener may have. Fans of each artist will appreciate the integration of their unmistakable styles. 
Party Favor's Rise
Ragland has made 2019 his best year yet, releasing his debut album Layers alongside his wild single "2012." Since catapulting himself to the forefront of the scene with his 2014 single "Bap U," the L.A.-based DJ and producer has found himself collaborating with the likes of Diplo, Dillon Francis, graves and Good Times Ahead. His refined skill as a producer has also led to collaborations outside of dance music, whipping up works with Lil Jon, 2 Chainz, Migos, A$AP Ferg and more.
The trio consisting of Nielsen, Espersen, and Korsby have been making a buzz in the dance music world as of recent, releasing an incredibly diverse array of tunes on highly regarded labels. Their recent releases include their single "We All" via Monstercat, their collab with Spektors "Den Bedste," and their Full Throttle EP on Barong Family.
FOLLOW PARTY FAVOR:
Website: partyfavormusic.com
Facebook: facebook.com/PartyFavorMusic
Instagram: instagram.com/partyfavor
Twitter: twitter.com/partyfavormusic
Soundcloud: soundcloud.com/partyfavormusic
FOLLOW NONSENS: 
Facebook: facebook.com/wearenonsens 
Instagram: instagram.com/wearenonsens
Twitter: twitter.com/wearenonsens
Soundcloud: soundcloud.com/wearenonsens