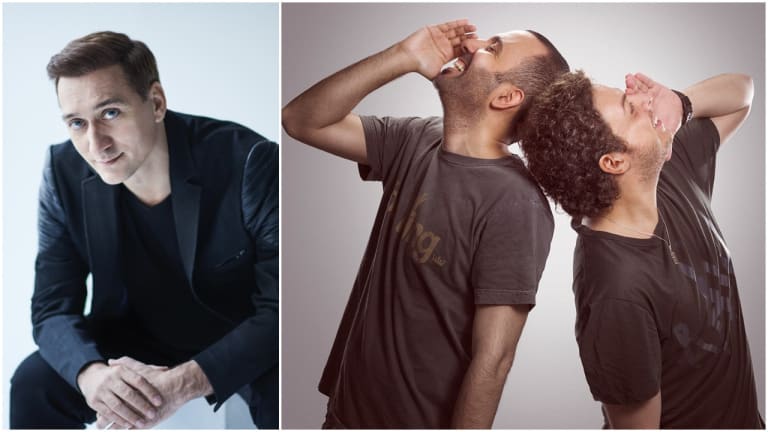 Paul van Dyk Releases Unexpected Vini Vici Collab "Galaxy"
Most trance fans never saw this coming.
If you were to tell a Paul van Dyk fan last week that he had collaborated with psytrance duo Vini Vici, they probably would have laughed in your face. Today they've delivered "Galaxy," though, undoubtedly turning the heads of trance aficionados across the globe.
"Galaxy" encapsulates a somewhat muted mixture of both acts' signature sounds. The warbling lead synths meet the ear softer than the exhilarating melodies for which van Dyk has built a following, and only hints of Vini Vici's bass-heavy psytrance stylings shine through. The track will nevertheless serve as a spirited addition to one of either act's DJ sets.
Paul van Dyk has pushed trance forward since the genre's coalescence in the mid '90s and into its heyday. While trance purveyors like Armin van Buuren and Tiësto pivoted along with the changing tides of the industry, van Dyk has remained more of a purist. For that reason Vini Vici seem unlikely collaborators being that the Israeli duo have recently collaborated with the likes of W&W and Steve Aoki.
"Galaxy" arrives by way of Alteza Records and will be included on the tracklist of van Dyk's upcoming album, Guiding Light.
FOLLOW PAUL VAN DYK:
Website: paulvandyk.com
Facebook: facebook.com/PVD
Twitter: twitter.com/PAULVANDYK
Instagram: @paulvandyk
FOLLOW VINI VICI:
Facebook: facebook.com/vinivicimusic
Twitter: twitter.com/vinivicimusic
Instagram: instagram.com/vinivicimusic
Soundcloud: soundcloud.com/vinivicimusic