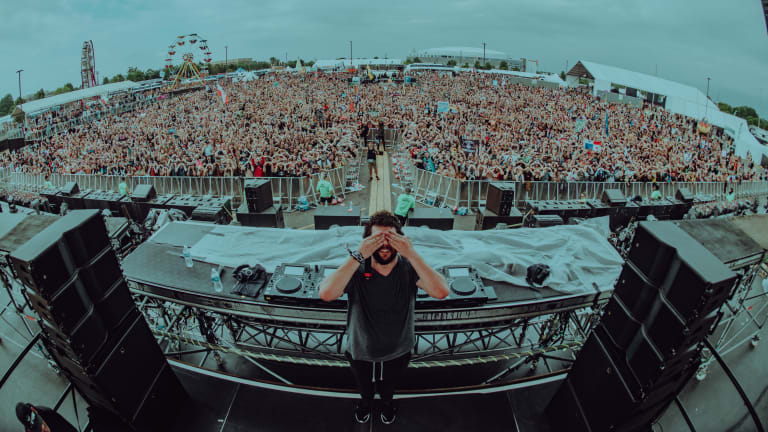 PEEKABOO Continues to Build Momentum with Calcium Collab, "HANDS UP!"
The Michigan native continues to impress with this latest track out on Wakaan.
If he isn't already, Michigan act PEEKABOO will be the Wakaan label's next big star.
Fresh off headlining Wakaan Music Festival this past weekend, Detroit native PEEKABOO — real name Matthew Lucas — is looking to keep things sizzling with his latest track, "HANDS UP!"
Lucas has built his career to this point off the strength of one-off releases and high-profile collaborations. In 2018, he became one of EDM's breakout stars behind his G-REX collaboration, "Babatunde." Earlier this year he earned the bass community's affection even further by collaborating on Bassnectar's track, "Illusion."
Sticking with that formula, the curly-haired DJ checked back in for another walloping bass tune alongside dubstep producer Calcium. The track opens with a spaced-out beat before grabbing the listener's attention with a "Put your hands up" chant. 25 seconds in the producers let the kick drum spur to life, sending you into the drop just before the one minute mark. The production here sounds reminiscent of previous PEEKABOO releases, as the bass comes in the form of a grinding sound accented by snappy drum snares and gurgling noises.
The result is another invigorating, head-banging tune from PEEKABOO that will likely be spun by artists at festivals all over — but who should be surprised? Nearly everything this producer has done, be it with Wakaan or Dead Beats, has gone viral. He's rightfully earned a huge opening spot on Rezz' current fall tour, but you can catch the producer on any of his remaining 2019 dates here.
Follow PEEKABOO:
Soundcloud: soundcloud.com/peekaboobeats
Facebook: facebook.com/peekaboobeats
Instagram: instagram.com/peekaboobeats
Twitter: twitter.com/peekaboobeats