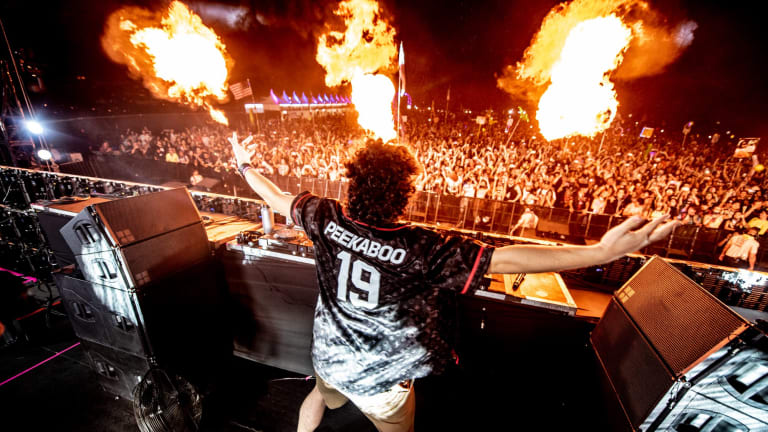 PEEKABOO Drops New EP, Announces Debut Headline Tour
PEEKABOO has returned to Deadbeats to release his the Impossible EP.
As one last hoorah to the massively successful 2019 he's had, PEEKABOO returns to Zeds Dead's Deadbeats imprint to release his second effort with them, the Impossible EP. The release is accompanied by an announcement of his debut headline tour, The Impossible Tour. 
Since making his big break in 2018, any track PEEKABOO (real name Matthew Lucas) releases has a staple within the bass community. The track that elevated him to stardom, a collaboration alongside G-Rex titled "Babatunde" was easily one of the most rinsed bass tunes of that year. Lucas' instantly recognizable sound became a distinction that set him apart from the masses and put him on the top as one of dubstep's most sought-after producers.
2019 treated the Michigan native well with sold-out tour dates spanning globally, the release of his EP, Wrecking Ball, as well as hit collaborations alongside Dirt Monkey and Calcium. Lucas pays homage to the flourishing year with Impossible, which comprises four tracks.
If there were a single word to describe Lucas' sound, it would be "original." In a music scene that can often be clouded by imitators, Lucas and others similar to him become a beacon to the essence of what the dance music scene is about. In his dizzying, effort, Lucas plays with unheard of textures, melodies, and drops, solidifying his spot among dubstep's most skilled producers.
Opening with the title track, listeners are immediately immersed into Lucas' old-timey, mesmerizing world. The track includes one of the signature sustained bass drops fans have come to crave. "Nut Case" and "Smack" deliver hip-hop and trap-infused energy, with even a dolphin vocal sample thrown in for good measure. Unafraid to take risks, Lucas' experimental sound design is showcased in the best way with this collection of tracks. House music gets a special PEEKABOO rework in "Rock The House," which takes a deep, booming twist in the second half. 
Fans can hear songs from the Impossible EP live at PEEKABOO's 21-stop North American tour of the same name. It will kick off January 31st in Denver, Colorado and will wrap up on March 13th in San Francisco, California. Moody Good, Zeke Beats, and ISOxo will be playing support with dubstep duo Truth as the special guest on certain dates. For all ticketing and tour information, visit here. 
Stream or download the Impossible EP, out now on Deadbeats.
FOLLOW PEEKABOO:
Soundcloud: soundcloud.com/peekaboobeats
Facebook: facebook.com/peekaboobeats
Instagram: instagram.com/peekaboobeats
Twitter: twitter.com/peekaboobeats
FOLLOW DEADBEATS:
Website: deadbeatsofficial.com
Facebook: facebook.com/deadbeats
Twitter: twitter.com/deadbeats
Instagram: instagram.com/deadbeats
Soundcloud: soundcloud.com/deadbeatsrecords