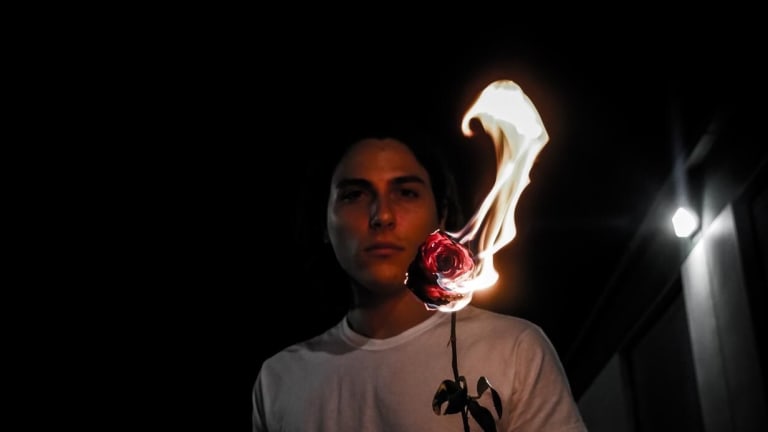 PiXXel Mends Hearts With Genre-Bending, Emotive Single "Red Roses"
Inspired by a close friend's recent heartbreak, "Red Roses" is a healthy dose of raw emotion.
It's commonly said that music is among the strongest natural healers. From speaking universal truths, providing immense comfort, and resonating with all walks of life, it can often get people through their toughest emotional times. The latest mastermind to help aid in the healing of a broken heart is Israeli singer, songwriter, and producer piXXel with his emotion-packed future bass single "Red Roses," out now via Proximity. 
Inspired by the heart-wrenching story of a close friend's heartbreak, piXXel (real name Ori Yonay) decided to transform the broken-down, somber feelings of his friend into something beautiful. "Red Roses" starts off mellow, with a heavy-hearted and gloomy feel. The quiet piano plays adjacent to the Yonay's soulful voice and mournful lyrics. As the vocals come to an end, the track erupts with a new infusion of energy, completely transforming into an entirely different, bright and bubbling future bass drop. 
This isn't the first time Yonay has showcased the duality in his production skills. His discography bounces between moods that range anywhere from soft and emotive, to in-your-face, bass-boosted hype tracks. In his six-track Beanie EP, released about three months ago, the Texas-based producer highlights his multi-dimensional talents with standout tracks "Beanie" and "Murder in the Dark." The title track of his EP, "Beanie" is enchanting and vivid, filled with rolling piano and bright synths. On the opposite end of the spectrum is his track "Murder in the Dark," which can best be described as an amped-up, bass-heavy soundtrack fit for the opening credits of an action movie.  
Besides producing under his piXXel alias, Yonay also makes up one half of the musical duo Livesay. Created alongside pianist and composer Nathaniel Harris, the two have self-released six tracks since starting their collaborative project nearly two years ago. SoundCloud saw the first release from the pair in October of 2017 with the release of their four-track EP, Awaken and Rise. Since then, the duo have put out two more singles: "The Last Dance" and the ethereal future bass track "Spacetime" featuring Yael Karoly. 
Stream or download piXXel's single "Red Roses," out now on Proximity.
FOLLOW PIXXEL:
Twitter: twitter.com/pixxelofficial
Instagram: instagram.com/pixxelofficial
SoundCloud: soundcloud.com/pixxelofficial
FOLLOW PROXIMITY:
Facebook: facebook.com/proximity
Twitter: twitter.com/proximitym
Instagram: instagram.com/proximity
SoundCloud: soundcloud.com/proximity