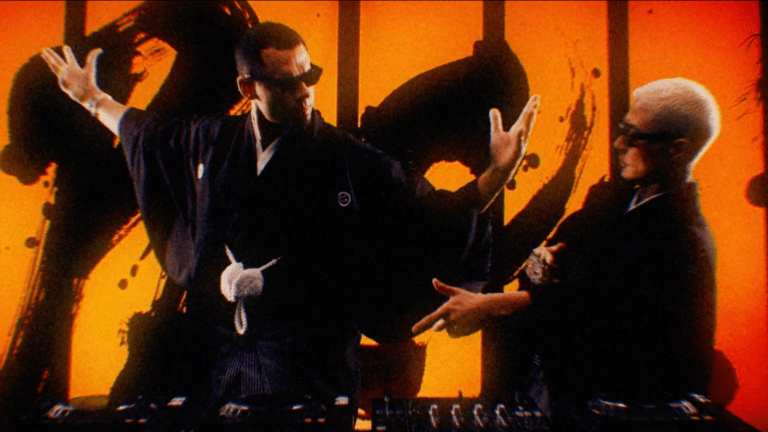 Watch Afrojack Flex His Samurai Skills in PKCZ® and CL's "Cut It Up" Music Video
Afrojack's latest collaboration with PKCZ® and CL throws us into a Kill Bill kind of sword fighting world.
PKCZ®, CL and Afrojack have not only dropped their latest collaboration, "Cut It Up," but also an epic sword fighting music video that's inspired by samurai films like Kill Bill. Released via 88rising, "Cut It Up" throws the members of Tokyo-based hip-hop and dance collective, former member of K-Pop's popular girl group 2NE1 and our very own Dutch DJ into the Kill Bill world. 
Dressed in samurai robes and armed with katanas, the members of PKCZ® and CL fight a group of suited enemies in the video. If you look closely enough, you'll also see some of the actual cast from Kill Bill - as well as Tetsuro Shimaguchi, the sword-choreographer for the martial arts classic. Bringing the catchy hybrid trap and dancehall beats to the action, Afrojack appears at the end standing behind the decks. 
Reminiscent of the fight scene between The Bride and Gogo and The Crazy 88s in Kill Bill: Volume 1, the music video also has some black-and-white flashes mixed in with its yellow and orange tint. However, the music video also brilliantly adds its own unique take on the scene with its animated slices and electric bolts to accompany the fast paced action and visualize the lyrics. 
For Nick van de Wall, A.K.A. Afrojack, "Cut It Up" is likely just the beginning of many more collaborations with Asian music artists like PKCZ® and CL. With him at the helm of LDH Europe, a Japanese management and entertainment company, we're bound to see even more exciting team ups in the future. 
Follow Afrojack:
Website: afrojack.com
Facebook: facebook.com/djafrojack
Twitter: twitter.com/afrojack
Instagram: @afrojack
Soundcloud: soundcloud.com/afrojack
Follow PKCZ®:
Website: pkcz.jp
Facebook: facebook.com/PKCZofficial
Twitter: twitter.com/pkcz_official
Instagram: @pkcz_official
Follow CL:
Facebook: facebook.com/ChaelinCL
Twitter: twitter.com/chaelinCL
Instagram: @chaelincl