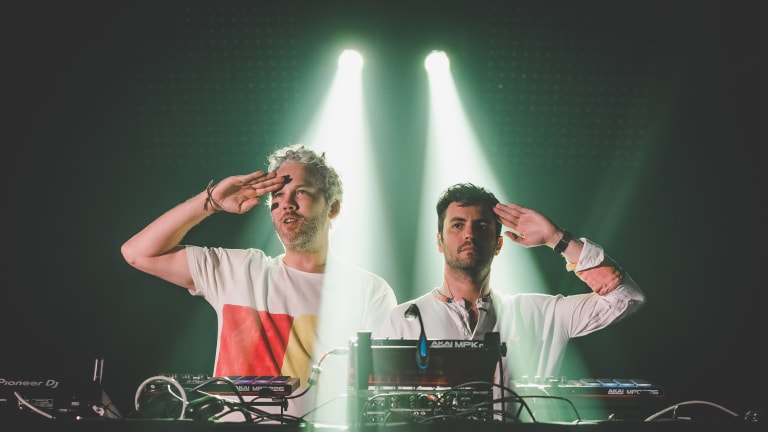 Polo & Pan Unleash New EP, Gengis
Polo & Pan's EP includes two remixes of the title track.
French electronic duo Polo & Pan are back with a brand-new project for their fans. The Gengis EP clocks in at four tracks, including the standout single "Gengis" and two remixes - one from Ghent-based duo Asa Moto and one from Tel Aviv selectors Red Axes.
While Polo & Pan are known for their out-of-the-box instrumentals and French touch, "Gengis" strays from their typical traditional French-driven melodies, instead creating a psychedelic soundscape with tribal rhythms. The new track also serves as their first original single since their critically acclaimed 2017 album titled Caravelle, which clocks in at over 115 million global streams and over 60 million plays alone.
Speaking on the creative process behind the new EP they stated: 
"We wanted to use some textures that would evoke something esoteric, hence the flutes and Mongol monk-style vocals. These were recorded at the very first session. A few weeks later, we realized the track was still missing something. We wanted to create a real surprise at the end, so we spent a day in the studio with Alex Lecourt who is an expert in traditional instruments and a genius improvisator. The last part of the track was born from that day of recording."
With a growing fanbase and over 60,000 followers on Instagram alone, they hope their audience will enjoy the diversity and span of their creations: from songs to club tracks to more cinematic tracks.
"We take our inspiration from all the things we love and try to channel them into a coherent universe through our production," they said. "We hope the scope of our music inspires people to listen to music more transversally."
As far as performances, they just packed out the Gobi tent at Coachella Music & Arts Festival in April of this year. Fans can expect a full-blown world tour in support of the new project, deemed their most expensive U.S. tour to date. Find the full list of dates below:
9/12 - Royale - Boston, MA
9/13 - Terminal 5 - New York, NY
9/14 - Underground Arts - Philadelphia, PA
9/15 - 9:30 Club - Washington, DC
9/17 - Thalia Hall - Chicago, IL
9/18 - First Avenue - Minneapolis, MN
9/19 - Ogden Theatre - Denver, CO
9/20 - Boulder Theater - Boulder, CO
9/24 - The Showbox - Seattle, WA
9/26 - Vogue Theatre - Vancouver, BC
11/1 - Danforth Music Hall - Toronto, ON
11/2 - MTelus - Montreal, QC
11/3 - L'Imperial Bell - Quebec, QC
11/5 - El Club - Detroit, MI
11/6 - Terminal West - Atlanta, GA
11/7 - The Ground - Miami, FL
11/9 - Warehouse Live - Houston, TX
11/10 - Canton Hall - Dallas, TX
11/11 - Mohawk - Austin, TX
11/13 - The Novo - Los Angeles, CA
11/15 - Fox Theater - Oakland, CA