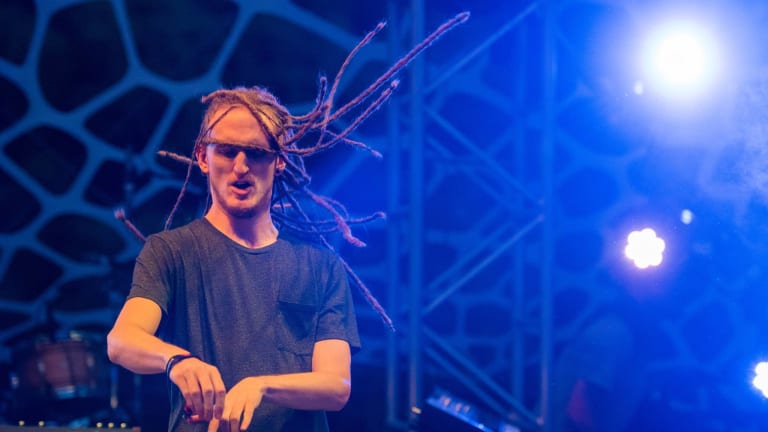 Psymbionic Drops Exploratory Album "Carbon Based Lifeform" [Premiere]
Psymbionic unveils his last couple years of work with his latest album.
Austin-based producer Psymbionic embarks on a well-diversified sonic journey with the release of his new album Carbon Based Lifeform. While the effort can be loosely categorized as bass music, Carbon Based Lifeform still has us hesitate to put a definitive label on the project. 
Much like his previous longform releases, Carbon Based Lifeform is a well textured and often seamless journey through sounds, genres, and moods. The album's release was preceded by two singles, "Dimensions" and more recently, "Homesick" featuring Chicago rapper ProbCause. 
Given ProbCause's vocal feature, "Homesick" stands out as a logical single choice. However, it is also the only big vocal feature on the album. While many electronic artists have made their albums very highly collaborative endeavors, Psymbionic brings a measured dose of collaboration to Carbon Based Lifeform but doesn't hesitate to bet on himself, either. In fact, the vast majority of the album's tracks are solo releases. 
From a collaboration aspect, another highlight is the synergy between Psymbionic and Gabriel Guardian on the album's title track. Known as one of the most ambidextrous minds in music, Gabriel Guardian has the unique ability to simultaneously play keyboard and guitar at high speeds. The multi-instrumentalist held nothing back, bringing the album to its apex point with a manic rock energy. 
If nothing else, Carbon Based Lifeform is an album of great contrast. From the midtempo funk elements of "City Zero" to the bright, 8-bit arpeggiation of the outro, Psymbionic embraces a palette of sounds fit for any mood. As the culminating piece of Psymbionic's last couple years of work, Carbon Based Lifeform aptly evidences the creative rabbit hole that comes from a producer testing their boundaries and discovering what's possible.
Listen to the boundless stylings of Psymbionic on his new album Carbon Based Lifeform, available now.  
FOLLOW PSYMBIONIC:
Facebook: facebook.com/psymbionic
Twitter: twitter.com/psymbionic
Instagram: instagram.com/psymbionic
SoundCloud: soundcloud.com/psymbionic