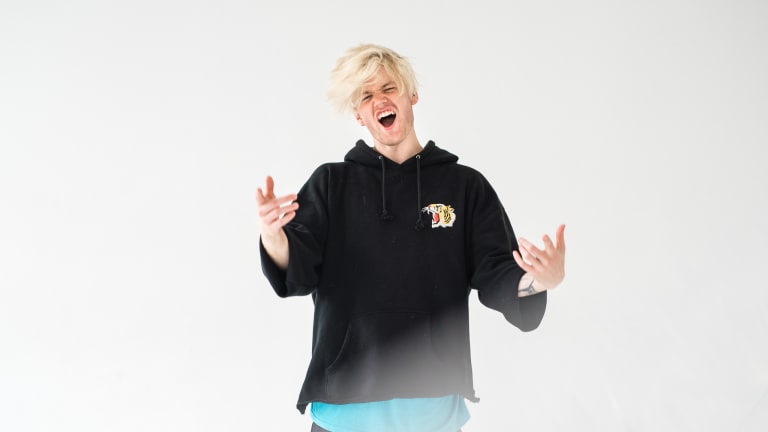 Puppet Drops Pop-Punk Electronic Cover of deadmau5' "The Veldt"
Puppet announces EP to follow in 2019
Chicago-born performer, singer-songwriter, Brendan Baldwin, better known as Puppet is back with the release of his edgy, pop-punk EDM cover of deadmau5' famed single, "The Veldt." 
"The Veldt" was originally released by deadmau5 in 2012, featuring vocals by Chris James off the album, Album Title Goes Here. The single was most notably known for its atmospheric vocals and cinematic, repetitive melody, but Puppet's new cover is electrifying and "in your face." Supported by the original melody, the upbeat cover features Baldwin on electric guitar, drums, and vocals. Baldwin explains where he found the inspiration to create the track, 
"'The Veldt' by deadmau5 was one of the songs that originally inspired me to produce music as a teenager. Now, 6 years later, comfortable with my new electronic/pop-punk sound, I wanted to reflect on how much I've grown, and give appreciation to where my life as a musician started."
The song comes as a follow-up to Puppet's previous original singles, "Orange Against the Blue" and "Cargo," released just last month in August 2018. Even prior, Puppet began exploring the use of rock-inspired structures and instruments in his hit EP, Life Overseas, released on Monstercat in 2017, which peaked at number 4 on the iTunes Dance charts, solidifying the ever-growing potential for pop-punk/EDM crossover. It's no secret Puppet's style of music has evolved in recent years, but Baldwin aims to assert himself with his one-of-a-kind sound, noting,
"Those EDM artists who try to tap into pop-punk nostalgia often take the easy route, adding an angsty top line to a pre-existing EDM instrumental. The potential of what 'could be' in pop-punk is being ignored. I'm approaching this in a way that no one else has done before by getting rid of the build-ups, writing my music based on rock patterns and structures, using guitars in place of synths, shouting through the choruses- this is a real blend of the two worlds."
I think Puppet is succeeding at his mission with this cover, and it sounds like this will be just the beginning for this producer. He has plans to release similar tracks in the upcoming months. Puppet is also working on his largest project yet, a new EP that will exemplify his combination of punk-pop and EDM.
Can't wait to see what's next for Puppet. 
To keep up, follow Puppet here:
Twitter | Facebook | Instagram | Spotify | Soundcloud | iTunes