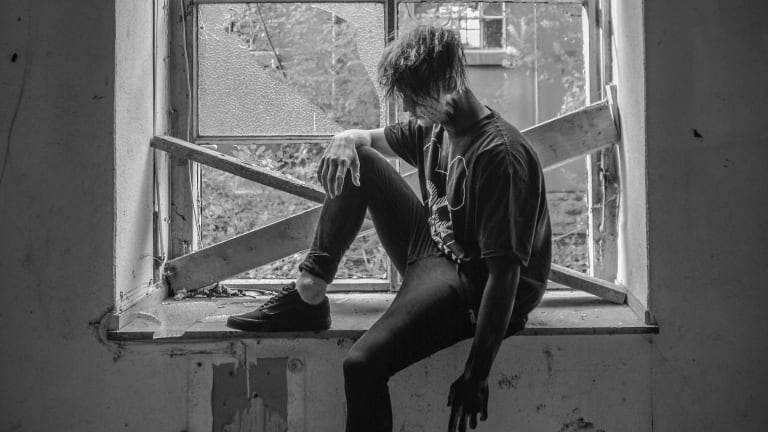 Qoiet Explores the Dark and the "Absurd" with Brutal Album on Crowsnest Audio
Death metal meets bass music in Qoiet's ferociously aggressive new LP Absurd alongside label boss Code:Pandorum.
Qoiet (real name Bruno Brocker) is a producer whose incredibly unique style is as frenetic and ferocious as it is brutal and bombastic. A highly technical blend of unrestrained bass music hybridized with a monstrous concoction of death metal and post hardcore, Qoiet's sound is unparalleled in its willfully experimental style, packed full of dissonance, absurd dynamics, and face-melting vocals.
Reminiscent of the score for a post-apocalyptic horror film, Qoiet's new album Absurd, released with Code: Pandorum's Crowsnest Audio, is a "metalstep" monstrosity that will crawl into your ears, set fire to the inside of your skull, and have blood dripping from your eyes... in a good way. Vicious, cutting synths and an array of explosive sound design ride overtop bone-crushing percussion. All these eleents serve as a perfect medium for harsh and often abrasive vocals that sound like they're from the pinnacle of the '90s and 2000s hardcore/screamo era. 
Pair all of this with the pure sonic insanity that we heard from Qoiet on his songs "Mowglii" "Gehenna," and "Broken Matter" (released on our very own Pantheon Collective) and you have yourself a cutting-edge new style that is a perfect musical blend for fans of metal and electronic music alike.
Stream or Download Qoiet's "Absurd" LP today.
FOLLOW QOIET:
Facebook: facebook.com/qoiet
Instagram: instagram.com/tooqoiet
Twitter: twitter.com/tooqoiet
SoundCloud: soundcloud.com/qoiet
FOLLOW CROWSNEST AUDIO:
Facebook: facebook.com/Crowsnestaudio
Instagram: instagram.com/crowsnest_audio
SoundCloud: soundcloud.com/crowsnest-3