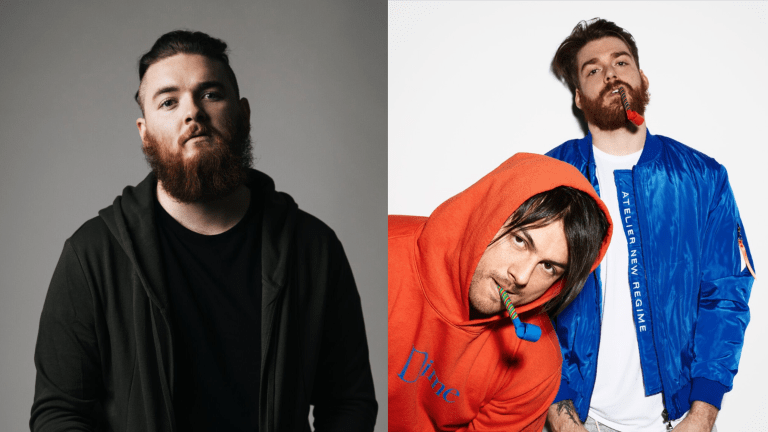 Adventure Club and QUIX Release "Life Long After Death" ft. badXchannels
After four months since the first live performance of the track on Adventure Club's Death or Glory tour, the long-awaited collaboration is out now on Dim Mak.
As the music industry continues to see the substantial growth it has in the last decade, the pool of endless creativity that floods the scene grows with it. The more progressive it becomes, lines between genres blur, new talent dominates the scene, and once-beloved artists develop and refine their sound. Combine all three of these aspects and what you have is the new, emotive and heavy-hitting single from breakout artist QUIX and powerhouse duo Adventure Club, "Life Long After Death" featuring badXchannel, the solo project from former leader singer of Chiodos, Craig Owens.
"Life Long After Death" hits the mark in all regards. With three artists who have been dominating the game, both old and new, it is no surprise this track is exceptionally powerful. Fans were teased with this genre-bending collaboration just over four months ago when Adventure Club (real names Christian Srigley and Leighton James) invited QUIX and badXchannels onstage for the first live performance of the track to their sold-out Hollywood Palladium crowd.
Though he is just making his breakthrough in electronic music, badXchannels, the vocalist on the track, had been previously running the hardcore rock game for over 15 years as the lead singer in Chiodos. Shortly after the band split, Owens began to release music under the badXchannels project, officially making his debut in late 2016 with his EP WHYDFML, which featured the two singles "I. One Car Funeral" and "III. Dottedxlines" and was released in the month prior. With 17 years of touring experience under his belt, most recently coming off of Getter's Visceral Tour, Owens' passionate yet vigorous vocals has paved him his own lane in the ever-changing music scene.
Also notably carving out his own lane, and arguably having one of the best breakouts in recent trap years, is the New Zealander DJ/Producer QUIX. Known for his minimal and unique sound design, QUIX dominated 2018 with his Illusions EP. Don't let "minimal" fool you, though. The six-track effort showcased his diverse production style ranging from the sensual "Hero" featuring David Shane and the bittersweet "All I Have" featuring Aviella to the most popular single from the EP, "Giving Up," each track being accompanied by a killer, earth-shattering signature QUIX drop. His immense talent has lead him across three headline tours in 2018 alone, and he's closed out the first night of EDC Las Vegas 2019 at the cosmicMEADOW stage.
Haling from bass capital Montreal, Canada, Adventure Club are considered to be two top forefathers of melodic dubstep. Having dominated dance charts around the world, including being nominated from a Grammy in 2018, it's easy to say this team has built their own empire along the way. Just recently coming off of their 37-stop Death or Glory Tour, which ended in May, and a standout performance at Project Z over the weekend, the pair continue to refine their sound over the years, all while keeping a massive and loyal cult following.
There's truly no slowing down these in-demand artists. Fans can expect a new QUIX collaboration with Alison Wonderland, which she recently teased at Electric Forest, as well as one with The Chainsmokers. Fans can catch QUIX live at the Believe Music Hall in Atlanta on July 27th. For more information, visit here.
Stream or download QUIX and Adventure Club's "Life Long After Death" featuring badXchannels out now on Dim Mak.
FOLLOW QUIX:
Facebook: facebook.com/OfficialQUIX/
Twitter: twitter.com/QUIX
Instagram: instagram.com/quixofficial/
SoundCloud: soundcloud.com/quixofficial
FOLLOW ADVENTURE CLUB:
Facebook: facebook.com/AdventureClub/
Twitter: twitter.com/adventureclub
Instagram: instagram.com/adventureclub/
SoundCloud: soundcloud.com/adventureclub
FOLLOW BADXCHANNELS:
Facebook: facebook.com/craigeryowens
Twitter: twitter.com/craigowens
Instagram: instagram.com/badxchannels
SoundCloud: soundcloud.com/badxchannels
FOLLOW DIM MAK:
Facebook: facebook.com/dimmak
Twitter: twitter.com/dimmak
Instagram: instagram.com/dimmak
SoundCloud: soundcloud.com/dimmakrecords