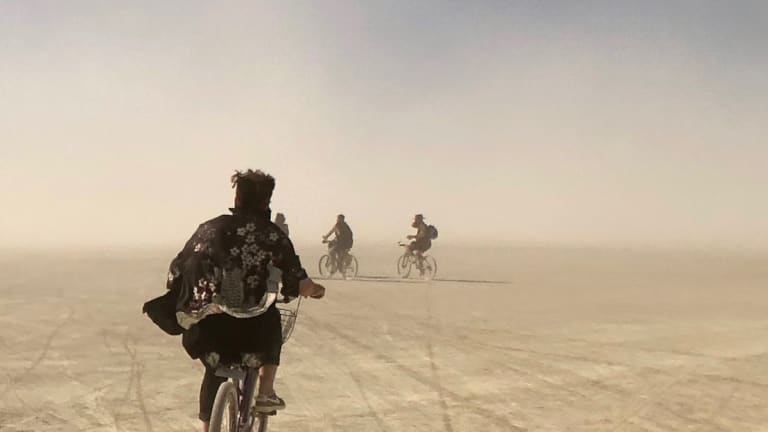 RÜFÜS DU SOL Upload DJ Set from Burning Man's Sonic Soul Tribe
Listen to the trio's first Burning Man experience.
For those who weren't lucky enough to attend Burning Man this year, fear not. RÜFÜS DU SOL has graced their fans with the full DJ set they recorded at the Opulent Temple party at Sonic Soul Tribe, Burning Man 2019. The set clocks in at roughly two hours and is as magical as one would expect.
The mix is predominantly instrumental but includes reworks of some of their tracks off the SOLACE album. It will transport your mind to the desert as if you are amongst the dust and smiling faces of those who witnessed the performance live. This is the perfect long mix to plug in and vibe out to. 
This was the Australian trio's first experience at the cult favorite pilgrimage. They weighed in on their time in Black Rock City stating: 
"Thank you to all the beautiful dancers and generous characters who made our first burn what it was. Opulent Temple, Robot Heart, DoLaB and every other collective who hustled out there to make the city thrive - we love you folks. We're a little older and a touch wiser for the experience. We will be back."
Burning Man takes place every year in Black Rock City- a temporary city built in the desolate Black Rock Desert, Nevada. The experience has been taking place since 1986 and is named from the ceremonial burning of a large wooden human structure. The theme for 2019 was Metamorphoses, inspired by an 8th century narrative poem of the same name by Ovid. It took place from August 25th to September 2nd, 2019. 
Catch RÜFÜS DU SOL live at their largest headline performance to date this weekend, October 5th, at the legendary Los Angeles Historic Park. 
FOLLOW RÜFÜS DU SOL:
Facebook: facebook.com/rufusdusol
Twitter: twitter.com/RufusDuSol
Instagram: instagram.com/rufusdusol
FOLLOW BURNING MAN:
Facebook: facebook.com/burningman
Twitter: twitter.com/burningman
Instagram: instagram.com/burningman