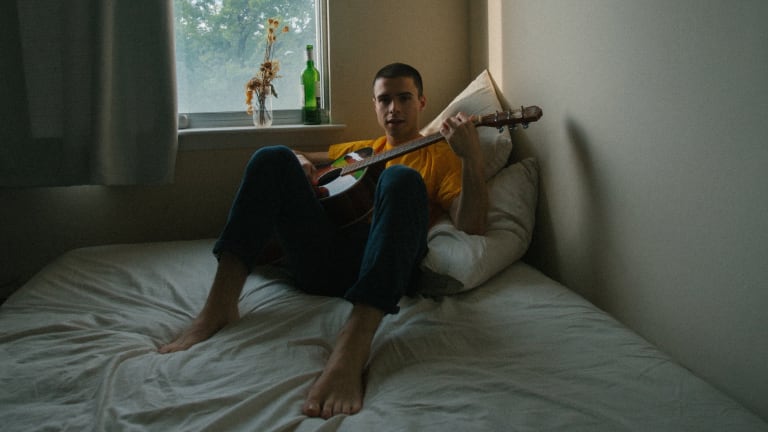 Rence's "Darkside" Remix Is a Genre-Less Bop that Cuts Deep
Rence delivers the "Darkside," remix featuring marcos g, fresh off the recently released Fall 2019 EP via Epic Records.
Freshly off a recently released EP titled Fall 2019, Rence has delivered a remix of "Darkside" featuring newcomer marcos g.
"Darkside" delivers a bold blend. An acoustic guitar drives the melody, as glitched-out pop gives the brooding lyrics a lift. As much as the track is a unique gem, it taps into a message we're all too familiar with: self doubt.
Rence commented that he views the song as "real-time honesty," and that he wrote it to question "the kind of person I've been and wondering at what point does that start to change." Miami-based marcos g adds to Rence's falsetto of a promise — "I've got a darkside, I save it for you" — by admitting to fronting a facade as a defense mechanism. The lyrics cut deep.
Part of the allure of "Darkside" is its homage to Rence's genre-less palette. Rence limbos between pop, indie, hip-hop, and alternative.
This transformation of pop on his own terms is most likely how the L.A.-based singer caught the eye of Noah Cyrus. Together the two released "Expensive," which garnered over 2 million streams on Spotify alone.
It's an impressive feat considering Rence just graduated from New York University this spring in three years' time. He entered the scene in 2017 with the collaborative EP Nineteen with Julian Lamadrid, and he quickly followed it up with another EP the following year, Pink. It was the single from Pink, "Baby Blue," that cemented Rence's following, and perhaps his signature dark lyrics.
"Baby Blue" contemplates the mundane of everyday life, and it struck a cord. The song has amassed over 5 million streams, and let Rence steamroll a path for future releases.
FOLLOW RENCE:
Facebook: facebook.com/yourstrulyrence/
Twitter: twitter.com/yourstrulyrence
Instagram: instagram.com/rence/
Soundcloud: soundcloud.com/yourstrulyrence