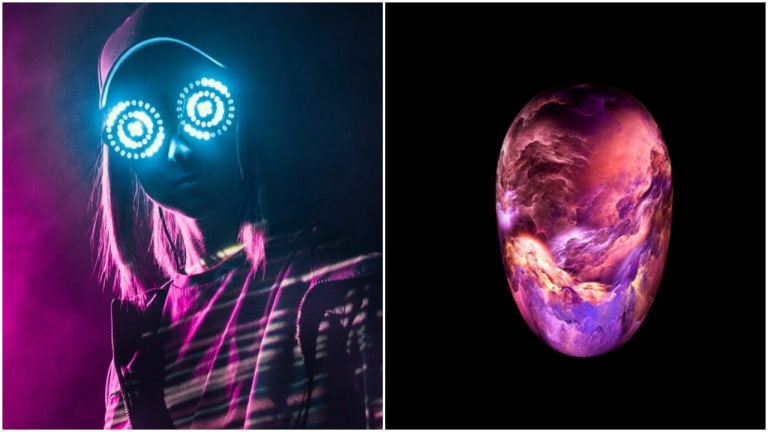 Rezz Releases Deathpact Collab "Kiss of Death" from Upcoming EP
Rezz and Deathpact's collab is one of six entries on her upcoming EP, Beyond The Senses.
If you're not already excited for Rezz' July EP Beyond The Senses, she's shared an entry from its tracklist that ought to do the trick. "Space Mom" had previously tested out her Deathpact collaboration "Kiss of Death" on live audiences, and now it's officially released.
Both Rezz (real name Isabelle Rezazadeh) and Deathpact's signature styles are on display in "Kiss of Death." The track begins with what sounds like a death rattle sampled in such a way that it transforms into one of the latter artist's metallic bass lines. When the gravelly midtempo bass drop makes its way into the arrangement it evokes mental imagery of Rezazadeh's iconic LED goggles bobbing behind the decks.
Deathpact has remained anonymous since the launch of their project last year - in which Rezazadeh herself played a role. The former artist's debut release was "Life & Death," a collaboration between the two that appeared on the latter's 2018 album Certain Kind of Magic.
The remainder of Beyond The Senses by Rezz is due out July 24th. Pre-order it on iTunes here.
FOLLOW REZZ:
Facebook: facebook.com/OfficialREZZ
Instagram: instagram.com/officialrezz
Twitter: twitter.com/OfficialRezz
SoundCloud: soundcloud.com/official-rezz
FOLLOW DEATHPACT:
Facebook: facebook.com/Deathpact
Twitter: twitter.com/deathpact
Instagram: instagram.com/deathpact
SoundCloud: soundcloud.com/deathpact