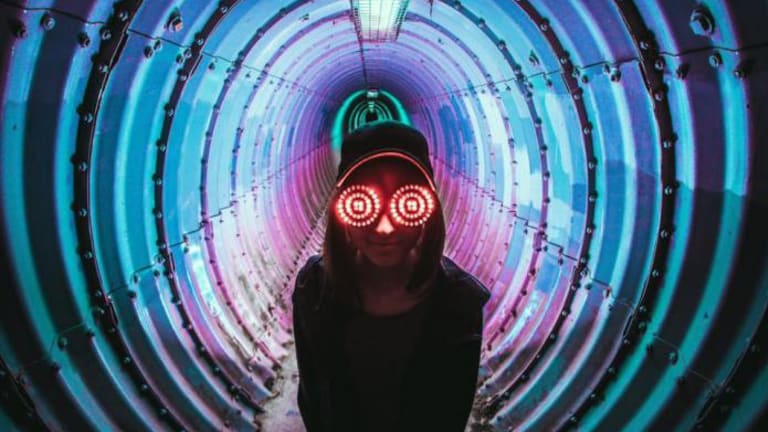 Rezz Releases EDC Las Vegas 2019 Live Set in Full
Relive the magic that was Rezz at EDC Las Vegas.
For those fans who weren't able to make it out to the Las Vegas Motor Speedway this year for EDC Las Vegas 2019, don't worry - "Space Mom" is here to help you relive the magic. The Canadian producer known as Rezz (real name Isabelle Rezazadeh) has released her full live set from the circuitGROUNDS. Prepare for an hour of haunting melodies and hypnotizing visuals. 
The downtempo bass goddess threw down an incredible performance for a jam-packed crowd. She's known to have a cult-like following, and by the looks of it, they all showed up adorned with her iconic LED glasses. Lasers and headbanging were in no short supply. The cold and wind stopped no one from going hard. If you are looking for a video to get you pumped up, look no further. 
Just last month it was revealed that Rezazadeh would release a six-song EP titled Beyond the Senses. It is set to be released on July 24th, 2019. Since that announcment, she's dropped one song ahead of schedule, "Dark Age." She dropped a snippet of "Kiss of Death" with Deathpact while performing at South Side Ballroom. One thing is for sure: She delivers to her fans.
Following a debut EP titled Insurrection on Nest HQ, Rezazadeh made her big break with the 2015 release of a single called "Serenity" via deadmau5' record label, mau5trap. Since then, she has been on a steady pace to the top, defying genres and amassing a following known proudly as the "cult of Rezz." 
Find the full tracklist for Beyond the Senses below, and pre-order it on iTunes here.
1. Dark Age
2. Falling (ft. Underoath)
3. Kiss of Death (with Deathpact)
4. STRESS (with EDDIE)
5. Your Soul Will Never Be Released (with Sayer)
6. Lonely (ft. The Rigs)
FOLLOW REZZ:
Facebook: facebook.com/OfficialREZZ
Instagram: instagram.com/officialrezz
Twitter: twitter.com/OfficialRezz
SoundCloud: soundcloud.com/official-rezz