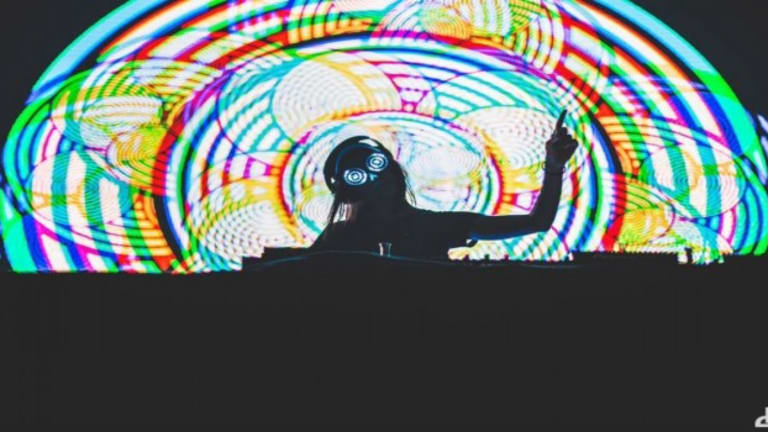 "RELAX" WITH REZZ'S HYPNOTIC FIRST TRACK OFF HER UPCOMING DEBUT ALBUM
Rezz's "Mass Manipulation" is coming.
There's nothing of importance for you to do, except relax.
That's not just a call to welcome the weekend, but also the vocal climax in Rezz's new original.
"Relax" is the first song from her debut album, Mass Manipulation, slated for an August 4th release date on deadmau5' renowned mau5trap label. Fans have eagerly been waiting for this track ever since she played it at Shambhala, last August, in 2016. It's been a staple feature in her live sets ever since!
The song captures her style perfectly, and is a great intro for what's sure to be an extraordinary album. In typical Rezz fashion, it is glitchy, hypnotic and dark, with a delectably weird fusion of industrial and bass music elements. What's more, the mind-bending vocals are straight out of a hypnosis script.
Accompanying the track, is an equally hypnotic and mind-boggling video. Cohesively executed, it is a visual encapsulation of the atmosphere of the song.
Set in a shabby run-down mental institute, it depicts how a patient found solace through none other than Rezz herself. The theme is grim and has a soul-sucking vibe to it, and Rezz even mentioned in the caption, "let's just say, I was creeped out just being at the shoot."
Also, that shot at the 4:07 mark is perfect.
It's stunning to see how Rezz slowly grew from an unknown producer to a breakthrough artist, and now, edging towards household name status in the EDM world. Sounds like a tough feat for someone who had no background in music up until a few years ago, but like her bio says, "it was rocket science at first but nothing 14 hours a day can't fix." Hard work pays off.
As someone who has closely been watching her progress for the last 3 years, I think she deserves the limelight, even more than most producers currently in it.
She has developed an unmistakably distinct style. When a Rezz song plays, you know it's a Rezz song, no question about it. In today's world of electronic music, with over-saturated sounds and repeated formulas, she is one of the few producers who can stand free and proud on an exceptional level of originality.

Apart from creating a unique style, she has garnered enough attention to play massive festivals like Ultra, EDC, Bonnaroo and Electric Forest, amassed a loyal ever-growing fan base - "The Cult of Rezz" - all while staying humble, hard working, consistent with original content and true to herself.
Although she wears goggles, she doesn't hide behind a facade. Rezz truly connects with her fans, chatting with them on social media, hopping into the crowd at her shows, making sure to meet as many of them as possible, and genuinely appreciating their support. The goggles and strange, offbeat persona aren't a gimmick. It's who she is, no marketing ploy here.

That's what makes her stand out.

Apart from a creative and original artistic attitude - rooted into all of her output including her music, accompanying artwork and public image - she is a not trying to be a superstar DJ. She's a human; although some fans who call her "space mom" may think she's from outer space! It's that grounded, down to earth personality, one she does not shy away from expressing to the world, that makes fans connect with her on a much deeper level. Rezz excels at breaking the barrier between artist and audience, while continually putting out superb spacey music.
Enjoy the first tune off her album, but don't worry, the wait for the next one isn't too long. She announced that she will be releasing a new song every week, leading up to the release of her album early next month!
A new Rezz song every week in July? Sounds good to me.