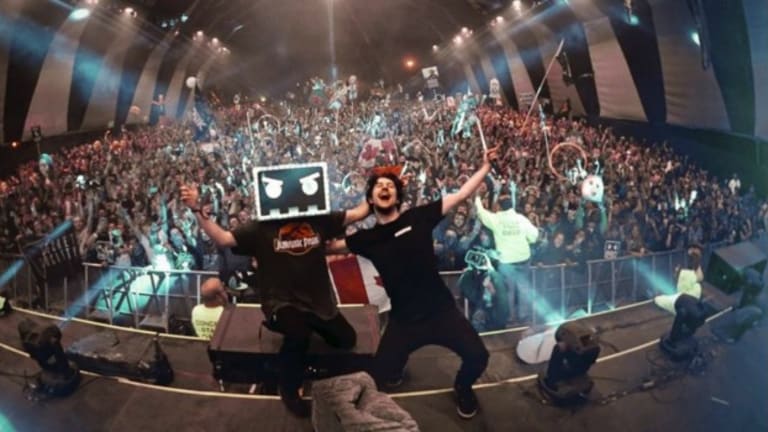 RIOT Premieres Remix of Infected Mushroom's Banger 'U R So F--ked'
Infected Mushroom received treatment from Los Angeles hellraisers.
Get ready for the Israeli connection! Infected Mushroom's 2012' banger "U R So Fucked," received a remix treatment from Israeli raised, Los Angeles-based rising stars RIOT. The remix is out via Steve Aoki's Dim Mak.

Fan-favorite anthem taken from Infected Mushroom's 2012 record Army of Mushrooms received its new massive drops, trance-inspired chords, and energy injection. In the new rendition, the track is ready to conquer any dancefloor given. The remix is released by Dim Mak, Los Angeles-based independent record label, run by Steve Aoki, and known for its support of diversity, noise, and experimentation.
Infected Mushroom is electronic music duo from Israel, formed in 1996. Over two decades, they gained cult status in the underground scene and released eleven studio records, including Return to the Sauce released earlier this year.
Started in Israel in 2012, hellraisers RIOT recently moved to Los Angeles propelling themselves into the heights of US electronic music scene. They instantly got recognizable by their aggressive, bass-filled sound and high energy. 'U R So Fucked' is not RIOT's first take on Infected Mushroom's opus, as they already released a remix of "Kipod" in 2015.
Both Infected Mushroom and RIOT are currently on their US tours, so check the dates below!

Infected Mushroom Tour Dates:
11/3 @ District N9NE - Philadelphia, PA
11/10 @ EDC Orlando - Orlando, FL
11/11 @ Skyway Theatre - Minneapolis, MN
11/18 @ Concord Music Hall - Chicago, IL
11/25 @ Zal Ozhidaniya Club - Saint Petersburg, Russia
11/26 @ Club Red - Moscow, Russia
11/15 @ Westcott Theatre - Syracuse, NY
12/23 @ Sound Nightclub - Los Angeles, CA
RIOT Tour Dates:
11/11 @ Myth Life - Maplewood, MN
11/24 @ Bleu - Detroit, MI
11/25 @ Skully's - Columbus, OH