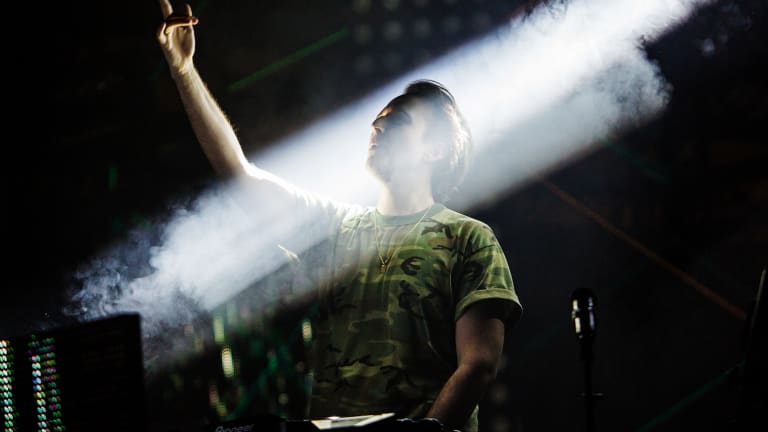 RL Grime Launches Sable Valley Imprint with Debut Track "Arcus" ft. graves
"The Time For A Solution Is Now!"
L.A.-based DJ/producer RL Grime (real name Henry Steinway) has announced his new endeavor called Sable Valley, a label which he'll use as a platform to showcase up-and-coming talent in addition to releasing his own music. 2019 is going to be a big year for Steinway, especially if the Sable Valley orientation video, titled "The Time For A Solution Is Now!" is any indication.
The first label release will be his highly anticipated collaboration with graves (real name Christian Mochizuki), "Arcus," which first made a debut on Steinway's Halloween Mixtape 7. To celebrate, RL Grime will host a Reddit AMA, date to be announced shortly.
Steinway has said: 
"Since the inception of RL Grime, I've had this goal in the back of my mind to start my own label. My Halloween mixes have always been an outlet for me to curate and showcase new music, but the natural next step for me was to start a label. My whole life I've been obsessed with the process of searching for and finding what's next, and this is a way for me to use my platform to highlight the emerging talent that I believe in. "Arcus" is the first release, and it felt like the perfect song to set the tone for what Sable Valley is about."
The intro is almost cinematic sounding, with whirling atmospheric synths. It transitions into a build section with pulsing claps before dropping into a section with screaming drones and fat drums. The mix is full of reverb and intricate percussion. It builds even further towards a fake drop with strings and a warped vocal sample. This section leads to the final drop which similar to the first, slaps us with fat drums and high pitches full synths. It's a great debut track for the label to release. 
Steinway first came to prominence as a New York-based teenager delivering monster, viral remixes of Chief Keef's "Love Sosa" and Kanye West's "Mercy." He established himself as a unique artist in his space with a striking, monochromatic aesthetic, a series of animated music videos, and an annual Halloween mix that has included drops from Goosebumps author RL Stine, comedian Hannibal Buress, and professional skater Tony Hawk. After solidifying his fan base with a few highly-regarded EPs, Steinway independently released his first studio album, VOID, in 2014. It premiered as the #1 Electronic album in the United States and remained in that position for a month.
This past year he released NOVA, in which he looked to further distinguish himself as an innovator in music by treading the line between millions of fans and an independent sound, the underground and the accessible, popular music and true art. Steinway's next chapter sees him opening the gates of Sable Valley, a new record label to release his like-minded artists' music and vision as well as his own.
Mochizuki has been working on the graves project full time since 2015, having since garnered support and praise from world-renowned artists like Diplo, Skrillex, Boombox Cartel, and Porter Robinson. His previous collaboration with Flosstradamus and Post Malone on "Came Up" has since caught the attention of millions.
FOLLOW RL GRIME:
Facebook: facebook.com/RLGrime
Twitter: twitter.com/RLGRIME
Instagram: instagram.com/rlgrime
SoundCloud: soundcloud.com/rlgrime
FOLLOW GRAVES:
Facebook: facebook.com/wearegraves
Twitter: twitter.com/wearegraves
Instagram: instagram.com/wearegraves
SoundCloud: soundcloud.com/wearegraves