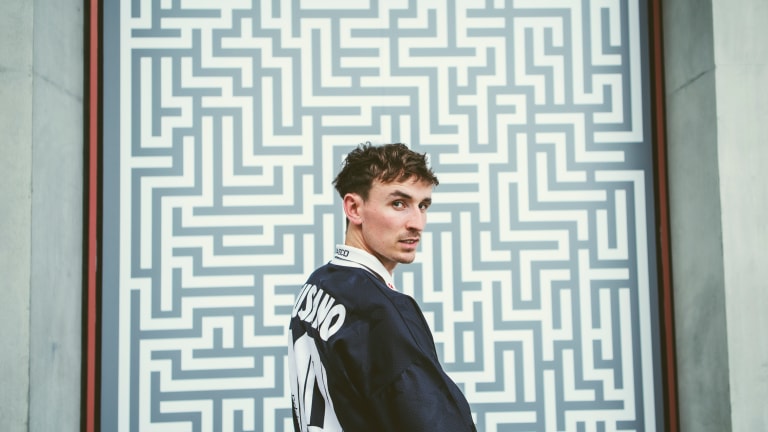 Don't Miss the New EP and Music Video by Ross From Friends
Directed by Theo Nunn, the video brings "Epiphany," the EP's lead single and namesake, to life.
British producer Ross From Friends (real name Felix Clary Weatherall) is certainly consistent. 
His debut album, Family Portrait, was released last July and dedicated to his parents. Then, he had his sister in mind when he created Epiphany, a three-track EP out last Friday via Brainfeeder. Obviously, Weatherall draws inspiration from his past. This recent EP, though, shows a focus on the future. 
For example, the title track, "Epiphany," drew inspiration from dystopian sci-fi movies. With the production for the track, Weatherall said in a press release that he wanted to play with the idea of a "desolate" environment being transformed into a utopia by a "communal epiphany". 
He certainly does so, using dreamy melodies and cushy synths to create a musical haven that turns subtle percussion beats into a seamless beat of mystery. The EP as a whole has a mood of adventure, using driving bass lines and higher pitches to tell its story. "Phantom Radio" is particularly special, blending trance and ambient music with vocal samples and wind chimes. 
The accompanying music video to "Epiphany," released today, leans into the pensive ideas of the EP even more. Director Theo Nunn built Weatherall's inspiration for the track by creating an eerie, animated world destroyed by technology. The viewer is eventually guided into a music-driven paradise, hidden away from all destruction.  
"'Epiphany' guides the viewer on a breadcrumb trail to collective transcendence," Nunn said. "Through our journey we follow the traces that chart the transformation of a culture, its abandoning of scientific conventional progress and the evolution of a musical enlightenment and psychedelic renaissance."
Wordy, but accurate. 
To get what we mean, be sure to check out the music video. Keep your eyes peeled for some particularly psychedelic plants that exist in paradise.
FOLLOW ROSS FROM FRIENDS:
Facebook: facebook.com/rossfromfriendsmusic
Twitter: twitter.com/russfrumfrunds
Instagram: instagram.com/rossfromfriends
Soundcloud: soundcloud.com/rossfromfriends