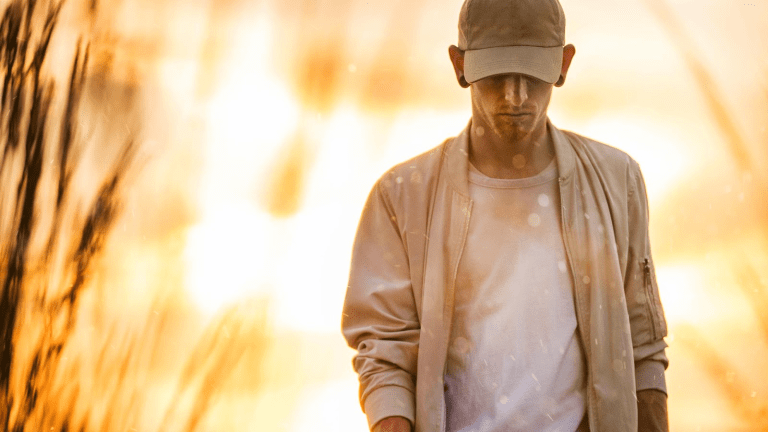 SAID THE SKY HITS EMOTIVELY CHARGED MILESTONE WITH DEBUT LP "WIDE EYED" OUT NOW [Listen]
Wide-Eyed and Mouth-Gaped after listening to this debut album
Now, this is how you release a debut LP. Said The Sky is blowing us away with his first full-length album "Wide-Eyed" out today via Seeking Blue Records.
Having started the journey towards this career landmark courtesy of singles 'Over Getting Over You' alongside Matthew Koma and 'Superstar' alongside Dabin and Linn, Said The Sky (real name Trevor Christensen) leaves no stone unturned for his first album project. Accompanied by a nationwide tour covering the entire country, WIDE-EYED represents a serious step into the spotlight from the rising star. 
The 15-track offering is a testament to the four-year journey that has taken Said The Sky to the level of artistry he shows us today. 
He starts off with a beautiful piano intro with Just Our Lullaby that sets the listener up for what is going to be a roller coaster of vibes.
Next up we have Just Us ft. Yuppycult, a bright yet sultry vocal future bass track that has just the amount of pop.
Show & Tell ft. Claire Ridgely is sassy, boppy, with empowering vocals.
Affection ft. Jack Newsome and Origami gives me full Odesza vibes (my greatest compliment) 5 stars!
Beautiful feat Diamond Eyes is soulful with that big room drop. I could see this being played at any festival main stage. 
Pray For Me ft. Origami has been out on the scene for a bit and fits into this album like a glove. It's a heavier, darker tone than the rest which is a cool change up to mix in. Getting trap vibes. 
Mixed Signals with StayLoose ft. Kyle Reynolds is summery and could fit in the mainstream scene but the funky flare brings it some edge.
Hold Me Closer is a solemnly beautiful interlude that showcases his guitar and piano skills that have brought him to where he is now. 
All I Got also starts slow and melodic but opens to an airy powerful drop that wakes you right back up. 
Faded is giving me straight emo vibes, middle school me is getting down to this. And then with build up and drop show the listener how talented his production skills truly are. I dare you not to nod your head to.
Erase Me is straight ethereal.  
Change Your Mind ft. Vancouver Sleep Clinic is euphoric. 
Over Getting You ft. Matthew Koma, the song that has brought him some of the most attention gives off great big room vibes. 
Superstar with Dabin and Lim seems mainstream but with the interesting moving basslines that switch things up. 
Finally, Never Gone is another angelic track with a powerful drop that culminates the album perfectly and shows that this man is an EDM powerhouse. 
Reflecting on the journey to his debut LP, Trevor explains: 'This LP turned out as the story of falling in and out of love. The first half of the album kind of portrays the feelings you have when you first meet somebody and are falling madly in love, while the second half represents the feelings you can go through after everything falls apart. This wasn't a conscious decision from the beginning. I decided to create the whole album when I realized I was sitting on quite a few tunes that could live in the same world and could be part of the same story.' 
His music is truly an experience and if you get the opportunity, check him out live while on tour: 
WIDE-EYED TOUR 2018
7/21 - Denver @ Global Dance Festival (B2B w/ Illenium)
8/4 - Hawaii @ The Republik
8/11 - Baltimore @ Moonrise Music Festival
8/17 - Tampa @ Ritz
8/18 - Orlando @ Glit
8/24 - Dallas @ Lizard Lounge
8/25 - Austin @ Vulcan
8/29 - Denver @ Red Rocks (supporting Illenium)
8/30 - Omaha @ Sokol Underground
8/31 - New Orleans @ Republic NOLA
9/1 - New York @ Electric Zoo Music Festival
9/7 - Grand Rapids @ The Stache
9/8 - Minneapolis @ Skyway Theatre
9/9 - Kansas City @ Dancefestopia Music Festival
9/14 - Albuquerque @ El Rey
9/15 - San Bernardino @ Nocturnal Wonderland
9/16 - Thornville [OH] @ Lost Lands Music Festival
9/20 - Buffalo @ Rec Room
9/21 - Toronto @ Velvet Underground
9/22 - Montreal @ Belmont
9/29 - Phoenix @ Goldrush Music Festival
10/4 - Reno @ The Blue Bird
10/5 - Berkeley @ Cornerstone
10/6 - San Diego @ Bassmnt
10/13 - Atlanta @ Terminal West
10/18 - Vancouver @ MIA
10/19 - Edmonton @ Chvrch Of John
10/20 - Calgary @ Hifi Club
SAID THE SKY+
https://www.facebook.com/saidthesky/
https://www.instagram.com/saidthesky/
https://twitter.com/SaidTheSky
SEEKING BLUE+
https://www.facebook.com/SeekingBlueRecords/