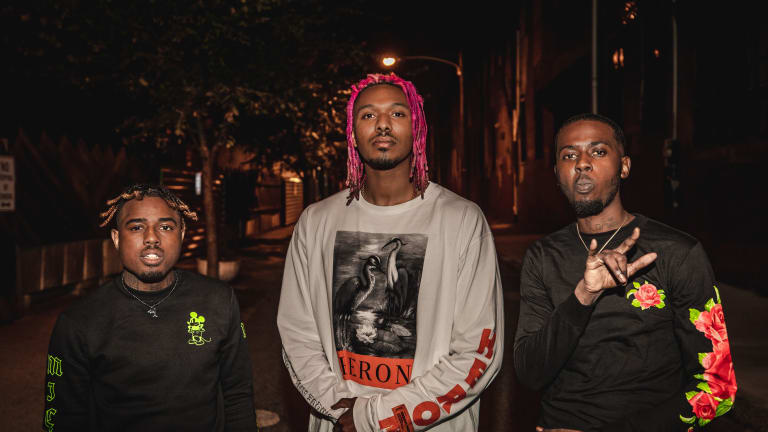 SAYMYNAME and BlumBros Drop Heavy-Hitting Single, "Boujee"
The new single blends hip-hop and SAYMYNAME's signature hard trap style.
Genre trailblazer and originator of "HARDTRAP," SAYMYNAME has teamed up with Philadephia-based hip-hop duo BlumBros for the massive new single, "Boujee."
Crowned as "the godfather of HARDTRAP" by fans and industry elites alike, SAYMYNAME has built a career out of producing high-impact, heavy-hitting festival anthems. From starting his career in 2013 after winning Insomniac's Discovery Project to HARD Summer compilation track exclusives and numerous main stage performances, it's evident SAYMYNAME's style is perfectly suited for getting a crowd moving. His latest festival creation enlists the talents of the rising duo, BlumBros.
"Boujee" blurs the lines between hip-hop and SAYMYNAME's unique blend of hardstyle and trap. BlumBros' talents shine through in the track with its infectious hook and lyrics delivered with an unmatched level of confidence. Just as much as listeners hear the bravado, they can hear the authenticity in the track's beat. Similar to Rae Sremmurd or Migos, it is clear the sibling duo has a promising future ahead.
SAYMYNAME will be performing at Bassmnt in San Diego on December 28th. For all ticketing information, visit here. 
Stream or download SAYMYNAME and BlumBro's new single "BOUJEE," out now on Thrive Music. 
FOLLOW SAYMYNAME:
Facebook: facebook.com/saymynamemusic
Twitter: twitter.com/CHEFSAYMYNAME
Instagram: instagram.com/saymynamemusic
SoundCloud: soundcloud.com/saymynameofficial
FOLLOW BLUMBROS:
Twitter: twitter.com/blumbros
Instagram: instagram.com/blumbros
SoundCloud: soundcloud.com/blumbros