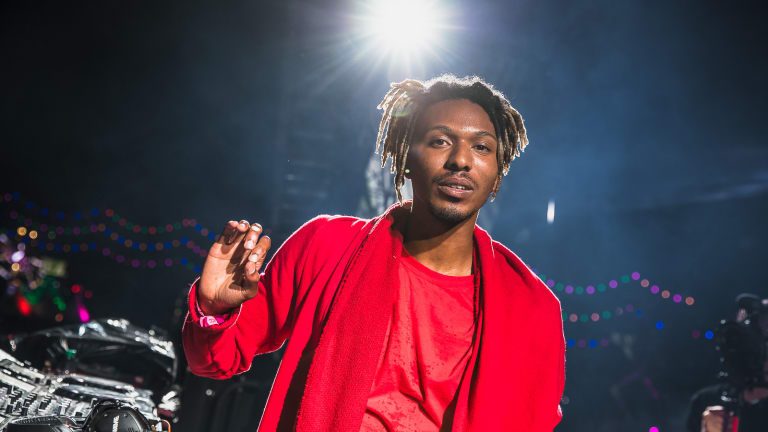 SAYMYNAME Shares a Slamming 45-minute Summer Mixtape
It's 45-minutes of total craziness.
SAYMYNAME has been incredibly busy these days. The Los Angeles, California native is better known by Dayvid Sherman. He's now shared a 45-minute mixtape with tracks from artists like Gammer, Slander, Eptic, and a myriad of others. Additionally, the mix is chock-full of track IDs.   
Sherman won Insomniac Event's Discovery Project back in 2013, which launched him right into the limelight. Since, he's performed at festivals like Insomniac's Basson and EDC Las Vegas. 
Indulge in his incredible summer mixtape below. 
Set Intro
Slander X SAYMYNAME - I Can't Escape (ft. Feli Ferraro)
ID - ID (SAYMYNAME REMIX)
Gammer - The Drop (SAYMYNAME Hype EDIT)
Code Black & Crisis Era - Beat Cannon
Vinai X Carnage - Time For The Techno
Subtronics - Big Game Hunter
B-Front, Alpha2 - Tormented
Slander - Dead (SAYMYNAME Remix)
Eptic - Swords and Dragons
Rakataka (ID Remix)
Afrojack - Flawless Victory
SAYMYNAME - Drop it
Post Malone - rockstar (ft. 21 Savage)
Bailo & Bellorum - Baillorum
SVNTOZ - Massacre (RicharddSly Trap - Flip)
Lil Jon & East Side Boyz - What You Gon Do (FREAKY Remix)
Milano the Don, Lunatix - GH GH
12th Planet, Barely Alive & PhaseOne - Send It
Spag Heddy - Samir (HARDTRAP Remix)
Gammer - Party Don't Stop
Aazar & Kovalenco Gennadi ft Lil Jon - 2 Lit
SAYMYNAME - Get On My Level (ft. Kevin Flum)
Hard Driver - Crank It Up (HEAVY FIRE Remix)
BTFWD - Carnage & Junkie Kid (TERROR BASS REMIX)
Elbows - (PuroWuan Remix)
Onur Ormen & EBEN - Mirror (Finebreak Remix)
HVRDWOOD - REDRUM
Skellism & Terror Bass & Lil Jon - In The Pit (Original Mix)
Hardwell - Make the World Ours
ABS3NT, Filament & JayThrillz - Fantacy Factory (Original Mix)
SAYMYNAME - Don't Stop
Gammer - Stay Tonight (ft. Dylan Matthew)
Virtual Riot - Pray For Riddim
twenty one pilots- ride
Carbin - Twenty-2-Life
Oddprophet & Ecraze- Spread Like
Krimer - Die
Yellow Claw - Hold on to Me (ft. GTA)
Wildstylez - Temple of Light (Qlimax Anthem 2017)
Follow SAYMYNAME: SoundCloud | Spotify | Facebook | Twitter | Instagram