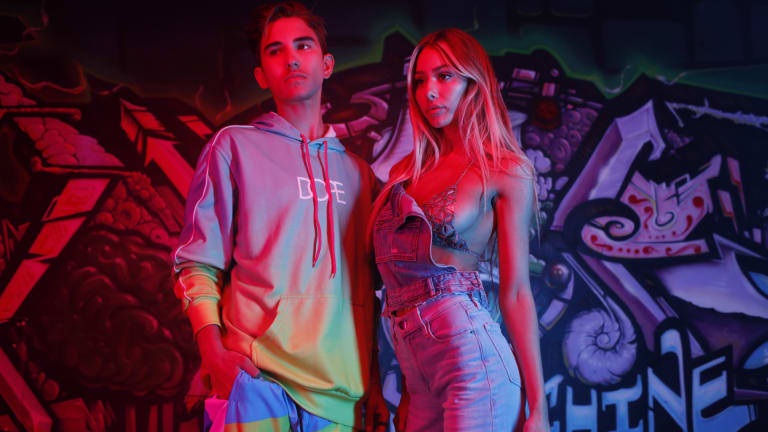 Entrepreneur Turned Songwriter Churns Out Audio Gold with "On Your Mind"
From Forbes 30 under 30 to musical prodigy, Sebastian Dobrincu has pop star potential written all over him.
Sebastian Dobrincu is way ahead of the game. The tech entrepreneur-turned songwriter turns every endeavor into gold, a talent that shines through in the brilliance of his new single "On Your Mind." He's a kid prodigy—one of the brainiacs on Forbes' "30 under 30" list and Silicon Valley's youngest millionaire. With looks that kill and a voice that could make any girl weak in the knees, he's got pop star potential written all over him. 
This breakthrough single could be the start of a massive music career for Sebastian. "On Your Mind" shot to over 150,000 views in the first three days on YouTube and is now working its way toward a quarter million. The sky is the limit from here.
The "On Your Mind" video is a total mind-trip, featuring internet influencer Celeste Bright, a voodoo doll, and a suicide-door sportscar (need we say more?) creating the perfect setting for this mesmerizing tune about unshakeable feelings of attraction.
Sebastian Dobrincu's voice sits well on top of the stellar, professional production by Marius Moga. Marius is an internationally recognized producer and label boss from Sebastian's hometown of Bucharest. "On Your Mind" is being released on Marius Moga's label DeMoga Music in conjunction with Cat Music. Sebastian Dobrincu now resides in Los Angeles, and will surely take the music industry by storm with such timely placement and potential after breaking onto the scene with such a solid track. "On Your Mind" deserves to be on your playlist. 
To hear more from Sebastian, check out the exclusive EDM.com interview below.
EDM.com: We totally dig your music video for your current single, "On Your Mind." Can you tell us about the message behind that video and the song?
Sebastian Dobrincu: The concept behind the music video for "On Your Mind" is me being chased by my mystic lover, played by the amazing Celeste Bright. The main focus from the beginning was coming up with a distinctive plot line, which ended up being the voodoo action that Celeste performs on me throughout the video in order to get to do whatever she wants.
You're originally from Bucharest, Romania, but you're now living in Los Angeles, California; that's quite a jump in lifestyle. What made you decide to make this big "move" to America?
It's a huge jump from all points of view! I first moved to the U.S. when I was 17, to scale my company and grow our team. In just three years I ended up living in New York, San Francisco and now in sunny Los Angeles. It's impossible to overlook the contrast between Eastern Europe and the major cities in the U.S., especially since I go back and forth so often, but moving to Los Angeles was undoubtedly the right decision, both personally and professionally. Sometimes I really miss my family and friends from back home, but fortunately, I ended up embracing the 16-hour flight and the jet lag that comes with it, so I visit them quite often.
What's your songwriting process like when you're in the studio recording and composing new music? Do you write all your own lyrics? Do you write your own melodies? To you, what makes a great song?
My ideology when it comes to songwriting is that the music you write has to reflect your true self, your real feelings. Probably my favorite part is sitting down with my team and putting together lyrics and storylines that consolidate past experiences and moments in my life, whether that's how I developed a burning infatuation with this girl or moments when I felt let down and mournful. To me, this is what makes a really great song – pouring in genuine feelings, encompassing your true self, and allowing people to relate and connect with those stories.
Is there a producer you like to work with, or that you're most comfortable with, in the recording studio when you're laying down a new song? 
Although each producer has their own style and approach when it comes to making music. To me what matter most is that we get along on a personal level and develop a relationship that allows us to feel comfortable with each other and bring out the best in us. I've achieved that chemistry with amazing producers like Marius Moga and Mark Azekko. Beyond Grammy nominations and outstanding technical skills, they are warmhearted people you can truly open up to.
You've described yourself as being a "serial entrepreneur," and you're featured in Forbes as one of their "30 Under 30." How does it feel to be "Silicon Valley's youngest millionaire?" What is your response to haters who might be envious of your business success and perhaps criticize you for trying to "make it" as a singer in the music business?
The truth is that haters don't actually hate you. They hate themselves because you're a reflection of what they wish to be. Music was, in fact, my first love, way before entrepreneurship. I played guitar, piano and took vocal lessons ever since I was six years old. Thankfully I don't get as much hate as other artists, given the fact that most people look up to me and more often than not, see me as a role model for being able to pursue my passions, despite how widely different they are. Once I set my sights on a goal, I'm all in. I work, work, work until I achieve it. That recipe played out well for me in business. It will in music also.
What artists inspire you? Who do you dream of collaborating with?
I love it when artists are consistent with their style, especially when that's so distinctive from everything out there. I can't help but appreciate artists like Billie Eilish, Lil Nas X, Kim Petras, Lauv, Justin Bieber and more. I despise the idea of blindly following trends and I respect artists that are bold enough to challenge the mainstream. When it comes to dream collaborations, right at the top of my list are pop icons like Charlie Puth, Dua Lipa or Selena Gomez.
What are the biggest shows you've played recently, and where can fans expect to see you performing in the coming months?
The past few months have been insanely busy. It turns out that launching your career as an artist is no easy job, but I'm enjoying every second of it. So far I've mostly performed at shows in my home country, Romania, which is especially close to my heart, but now we started ramping up with new venues, concerts, and shows in the U.S. as well, which we are going to announce very soon.
Since you're at the forefront of technology, how do you see technology further transforming the EDM/pop music space in the coming years? Is there any project you're working on (in the tech world) that you can tell us about, as it relates to music?
Personally, I am trying to keep my business endeavors as separate as possible from my musical career, mainly because they're so diametrically opposed. I do however think that technology will, and already is, shaping the future of music in general – be it through new production software, studio equipment and through artificial intelligence. In fact, I'm in the process of assessing some investment opportunities in two AI startups pursuing this exact mission. Nonetheless, I'm thrilled to see how this develops.
Stream or Download Sebastian Dobrincu's "One Your Mind" today.
FOLLOW SEBASTIAN DOBRINCU:
Website: sebastiandobrincu.com
Facebook: facebook.com/Sebyddd
Twitter: twitter.com/sebyddd
Instagram: instagram.com/sebyddd