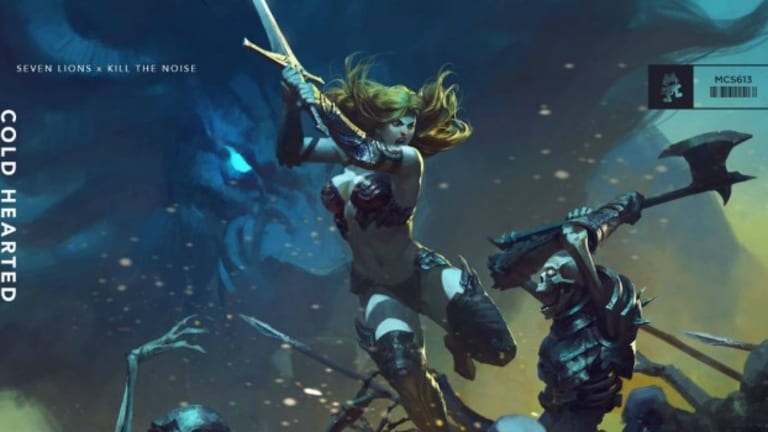 Seven Lions and Kill The Noise Team Up for Imaginative New Track "Cold Hearted" [LISTEN]
Dreamy yet filthy at the same time...what more could you ask for?
Producers Seven Lions and Kill The Noise have finally dropped their highly anticipated new single titled "Cold Hearted" via the independent label Monstercat on Wednesday of this week. These two well-known artists have made a name for them in the industry as individuals, so the EDM community couldn't wait much longer for this collaboration between the two legends. This track has been in the works for quite some time now and has been teased for over half a year!
Jeff Montalvo (Seven Lions) got his start in 2012 and later toured with the likes of Porter Robinson and Krewella. His signature style of transformative trance-bass music can be heard in some of his most popular tracks including "Strangers (feat. Tove Lo)", "Leaving Earth", and "Rush Over Me (feat. HALIENE)" with Illenium and Said the Sky. His beautiful, innovative style has gained a huge following, bringing him to various festival stages including Ultra, Electric Daisy Carnival, Electric Forest, and more. As time progressed, so did his willingness to experiment and draw outside the lines of typical genres. His 2016 Creation EP used a lot of acoustics and guitar work, adding to his unique sound.
Jacob Stanczak (Kill The Noise) has also been climbing charts since 2010. His heavy, introspective, bass focused sounds got him started by solely collaborating with other artists, but his first solo release, The Roots EP really exhibited his signature style. Some of his most popular tracks include "Right On Time" with Skrillex and 12th Planet, "I Do Coke", and his remix of Zomboy's "Like a Bitch". Similarly starting off performing his music in nightclubs, he has traveled to multiple festivals including Okeechobee, Electric Daisy Carnival, and Lost Lands.
The softer styles of Seven Lions blends perfectly with the harder, bass-heavy styles of Kill The Noise. The track starts off with an enchanting melody of synth and snares that gradually builds to a simply dirty old-fashioned dubstep drop. As the song continues, the second drop focuses in on Seven Lions with it's calmer, more melodic display of sound and energy. The last drop is a seamless combination of the past two, tying the song together perfectly. Listeners of both heavier and melodic tracks are sure to enjoy this new collaboration. If you haven't yet heard it, take a listen below!
Starting on the 26th of October, both Seven Lions and Kill The Noise will be heading out on a joint tour, accompanied by Tritonal. The Horizon Tour will travel to various states across North America, with 20 dates in total. More information, a full list of dates, and tickets are available at www.horizontour.org. Don't miss them play this mind-blowing song in your city!