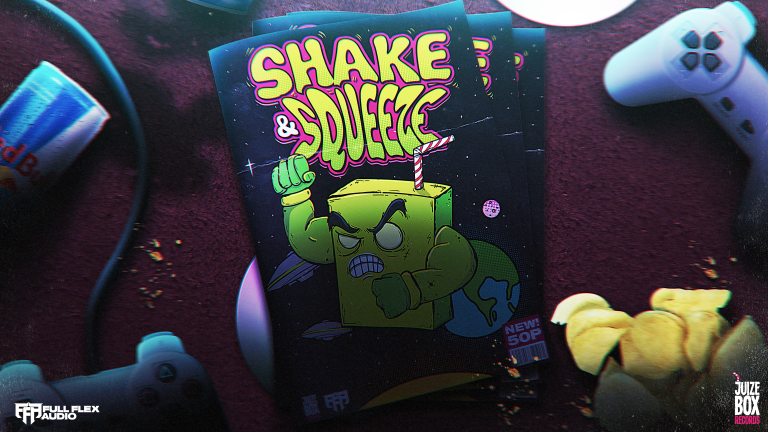 Full Flex Audio and Juize Box Records Join Forces for Massive Underground Bass Compilation, Shake & Squeeze
Explore the deepest and darkest depths of dubstep with the expertly curated 16-track effort from two of the leading labels of the underground bass music movement.
In the last five years, fans of bass music have watched a major shift happen within the community. As popularity for the beloved sub-wrecking sounds grows, it becomes increasingly difficult to maintain a true underground community in a becomingly-over-saturated market. Two of the leading labels of the underground bass music movement, U.K.-based imprint Full Flex Audio, and Netherlands-based Juize Box Records have taken restorative efforts of the underground into their own hands to bring the unforgivingly destructive joint effort, compilation album, Shake & Squeeze.
With cult followings behind both of them, these imprints are known for bringing the rarest gems in dubstep to the forefront of the scene. Founded in 2015, Full Flex Audio has an extensive, impressive catalog of releases featuring prominent artists such as Trilla, Madcore, and Ivory. One listen to any of their releases and it becomes clear why they have risen to become a household name in underground bass music.
Following the same high quality standard in their releases, the more-recently founded label Juize Box Records quickly earned a loyal fan base following the release of their Saucy Selects Vol. 1. Recognizing each other's global influence, the two labels have decided to come together to drop the insanely massive, unapologetically heavy, in-your-face compilation, Shake & Squeeze.
Featuring 16 different tracks, Shake & Squeeze is a guaranteed showstopper, with sounds from all over the world. The joint effort features Dutch label head of Juize Box Records, Madcore, French producer Playfull, the L.A.-based Exclusion, and many more. Filled to the brim with the filthiest of tunes, Shake & Squeeze is a must-listen, each artist respectfully adding their own atypical uniqueness to their tracks.
Stream or download the Shake & Squeeze compilation album today.
FOLLOW FULL FLEX AUDIO:
Facebook: facebook.com/fullflexaudio
Twitter: twitter.com/fullflexaudio
Instagram: instagram.com/fullflexaudio
SoundCloud: soundcloud.com/fullflexaudio 
FOLLOW JUIZE BOX RECORDS:
Facebook: facebook.com/JuizeBoxRecords
Twitter: twitter.com/JuizeBoxRecords
Instagram: instagram.com/juizeboxrecs
SoundCloud: soundcloud.com/thejuizebox