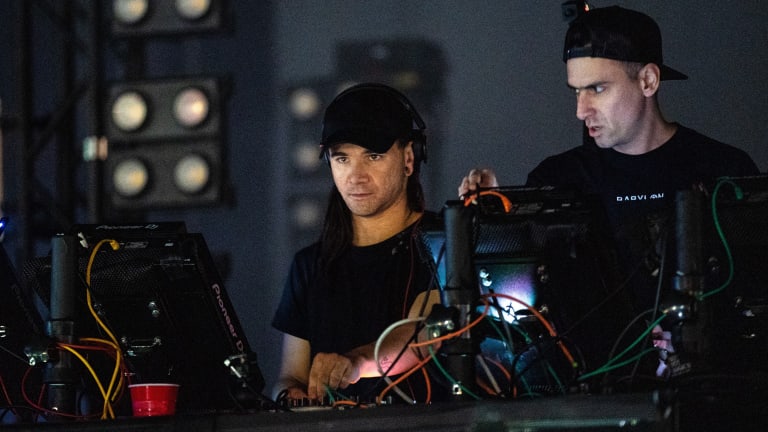 Skrillex and Boys Noize Share Dog Blood Minimix Full of Unreleased Music
Dog Blood dropped CLAP BACK VOL 1 ahead of their self-titled EP.
If you're brimming with excitement in anticipation of Skrillex and Boys Noize's EP as Dog Blood, the duo have shared something of interest. The Dog Blood EP comes out this Friday, May 31st, but you can listen to a veritable wealth of their unreleased music in the CLAP BACK VOL 1 minimix.
In addition, diligent Redditors have served up a speculative tracklist. Sprinkled amongst as-yet-unreleased Dog Blood singles with titles like "Tom's Bro," "Break Law" and "Davey's Locker" and music by the likes of Daft Punk, The Prodigy and Raito are IDs aplenty.
Skrillex (real name Sonny Moore) and Boys Noize (real name Alexander Ridha) launched Dog Blood in 2012. The EP of their project's namesake marks their first release together in six years. As evidenced by songs they've recently played out live like "Turn Off The Lights" and "Midnight Hour," it will encapsulate a happy medium between Moore's textured bass and Ridha's dissonant style of techno.
Find the speculative tracklist for Dog Blood's CLAP BACK VOL 1 below.
Dog Blood, josh pan, X&G - Tom's Bro [unreleased]
Dog Blood - Next Order
ID - ID
Switch - A Bit Patchy
ID - ID
OYRYDE & Skrillex - AGEN WIDA
JOYRYDE & Skrillex - AGEN WIDA VIP [unreleased]
The Prodigy - Breathe
Raito - Speaker Burner
Format:B & DJ PP - In My House
Hasse De Moor - Milkshake
ID - ID (Acapella)
Dog Blood - Turn Off The Lights (Ship Wrek Edit) [unreleased]
Dog Blood - Turn Off The Lights
IC3PEAK - Грустная Сука (Dog Blood Edit) [unreleased]
Dilby - Rio Grande
Dog Blood & Otira - Davy's Locker [unreleased]
Murci - DEEP_INSIDE
Daft Punk - One More Time
Wiwek & Moksi - Masta
Lil Texas - Total Knock Out
Dog Blood - Break Law [unreleased]
H/T: River Beats
FOLLOW SKRILLEX:
Facebook: facebook.com/skrillex
Twitter: twitter.com/Skrillex
Instagram: instagram.com/skrillex
SoundCloud: soundcloud.com/skrillex
FOLLOW BOYS NOIZE:
Facebook: facebook.com/boysnoize/
Twitter: twitter.com/boysnoize
Instagram: instagram.com/boysnoize/
SoundCloud: soundcloud.com/boysnoize