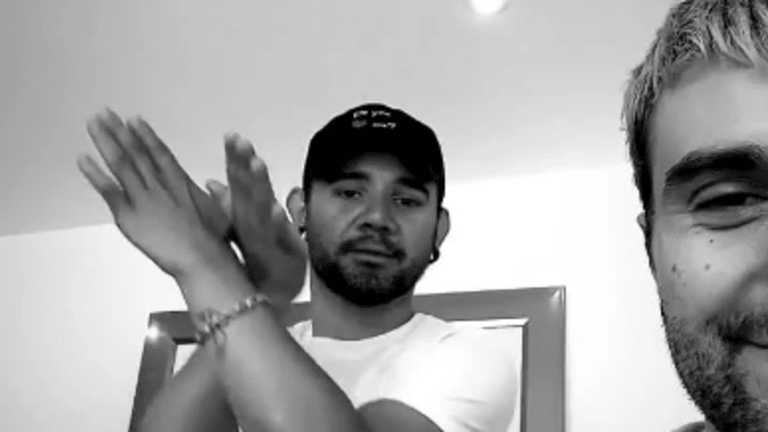 5 Remixes of "Rumble" That Will Have You Feeling the Aftershock
The floodgates have opened as music producers are offering up their interpretations of Skrillex and Fred again..'s long-awaited track.
The instinctual scramble to remix Skrillex has already begun.
It's only been a couple of days since Skrillex returned with "Rumble," his seismic collaboration with Fred again.. and Flowdan. And now we're witnessing the aftershock—right on queue.
Considering the track was perhaps the scene's most sought-after ID prior to its release, it shouldn't come as a surprise that many producers had lingering remix ideas for "Rumble" that were top-of-mind.
Here are five of the best remixes of "Rumble" released so far for fans looking to double down on their Skrillex fix as they await his long-awaited sophomore album.
Skrillex and Fred Again.. - Rumble (HOLLY Remix)
HOLLY takes "Rumble" leftfield with his signature wonky oneshots, which push his wild remix to the limit.
Skrillex and Fred Again.. - Rumble (Luca Lush Remix)
Luca Lush turns the rumble into an earthquake, producing pummeling, distorted bass that embraces the spirit of hard dance.
Skrillex and Fred Again.. - Rumble (Qlank Remix)
Qlank reigns in "Rumble" while turning up its danceability factor, leading to what's sure to be a future dancefloor killer.
Skrillex and Fred Again.. - Rumble (ALRT Remix)
ALRT went outside the box and delivered an unexpectedly smooth groove at the track's high points, producing a hyper-house rendition that we anticipate is going to be tough to match.
Skrillex and Fred Again.. - Rumble (DJ Sliink Remix)
DJ Sliink slows the frenetic pace of "Rumble" and packs a punch in his stunning interpretation, which blends trap and Jersey Club.
FOLLOW SKRILLEX:
Facebook: facebook.com/skrillex
Twitter: twitter.com/Skrillex
Instagram: instagram.com/skrillex
Spotify: spoti.fi/30OEWUh
FOLLOW FRED AGAIN..:
Facebook: facebook.com/fredagainagain
Instagram: instagram.com/fredagainagainagainagainagain
Twitter: twitter.com/fredagainagain1
Spotify: spoti.fi/3w2WKZD
FOLLOW FLOWDAN:
Facebook: facebook.com/BigFlowdan
Twitter: twitter.com/BigFlowdan
Instagram: instagram.com/big_flowdan
Spotify: spoti.fi/3X6kUOV