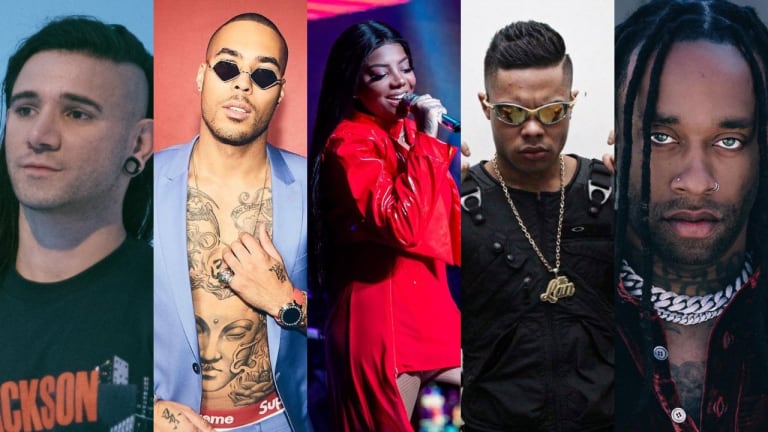 Skrillex and TroyBoi Announce Upcoming Track with Ludmilla, Lan, and Ty Dolla $ign
Skrillex and TroyBoi are set to release another huge collaboration featuring Ludmilla, Lan, and Ty Dolla $ign.
TroyBoi just revealed that he's about to drop another track with Skrillex, and this time they'll be joined by Ludmilla, Lan, and Ty Dolla $ign.
Last month, the duo shocked the bass music world with the release of their highly anticipated collaboration "WARLORDZ." There's no word on what genre the upcoming track will be, but fans have been speculating wildly considering it includes two EDM artists, a pop singer, a funk artist, and a hip-hop artist.
It remains to be seen how the different musical backgrounds and cultures from the international team blend on a single track. It's worth noting that each of these artists has been known to cross genre lines, so fans should have little to worry about. 
Just two days ago, Skrillex and Ty Dolla $ign were featured on Lykke Li's track "two nights part ii." In addition to their recent releases, the duo are rumored to have another song on the way, which has been featured in some of Dog Blood's recent sets.
At the time of writing, the artists involved have not announced a firm release date. TroyBoi simply stated the track is coming soon.
FOLLOW TROYBOI:
Facebook: facebook.com/troyboimusic
Twitter: twitter.com/troyboimusic
Instagram: instagram.com/troyboi_music/
SoundCloud: soundcloud.com/troyboi
FOLLOW SKRILLEX:
Facebook: facebook.com/skrillex
Twitter: twitter.com/Skrillex
Instagram: instagram.com/skrillex
SoundCloud: soundcloud.com/skrillex