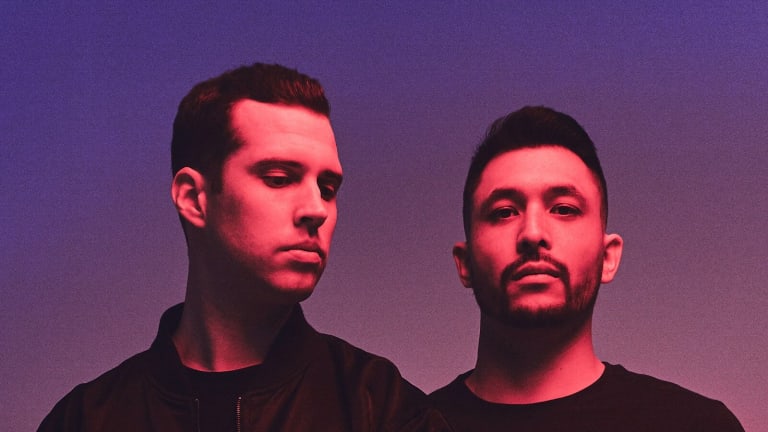 SLANDER's "Love is Gone" ft. Dylan Matthew Gets Reinvented in 6 Unique Remixes
The beloved single has been reimagined through the lenses of six different electronic acts.
A fan-favorite track from the beloved electronic duo SLANDER has received six different renditions in a remix pack.
Arguably one of the most influential acts in bass music, SLANDER (real names Derek Andersen and Scott Land) have a long list of hit singles under their belt. What they're best known for, though, are their euphoric electronic love ballads. Singles such as "Love Again" featuring WAVZ, "Superhuman," and "First Time" sit among their most-played tracks with millions of streams across each one. With such strong support behind their love songs, it was only due time that their most recent collaboration with Dylan Matthew, "Love is Gone," received a remix pack. 
The remixes include six standout renditions of the original future bass track. Artists featured on the remix pack include Kompany, Spag Heddy, Danny Olson, Current Value, Crystal Skies, and ALRT. 
Anticipation for the remixes has been building since Kompany first premiered his monstrous remix at Excision's Bass Canyon back in August. Since then, SLANDER and the artists featured have been playing snippets of their remixes at live shows. Spag Heddy, who has previously teamed up with the L.A.-based duo for their single "Running to You," shared a sentimental moment in a B2B with SLANDER at Lost Lands when they played his remix and "Superhuman" together in the rain.
One of the most transformation remixes featured is Danny Olson's cinematic flip of the original. "I just got really into it and I knew I only had about a week," he told EDM.com. "So, I just went to town and did a bunch of orchestral stuff, made it epic and huge, and they loved it."
The remix pack includes multiple renditions spanning across different genres. From Spag Heddy's trap and dubstep hybrid, ALRT's hard dance remix or Danny Olson's orchestral flip, there is a diverse blend of genres any dance music lover can appreciate.
Stream or download Slander's Love is Gone (The Remixes), out now.
FOLLOW SLANDER:
Facebook: facebook.com/slanderofficial
Twitter: twitter.com/slanderofficial
Instagram: instagram.com/slanderofficial
SoundCloud: soundcloud.com/slanderofficial
FOLLOW KOMPANY:
Facebook: facebook.com/kompanymusic
Twitter: twitter.com/kompanymusic
Instagram: instagram.com/kompanymusic
SoundCloud: soundcloud.com/kompanymusic
FOLLOW SPAG HEDDY:
Facebook: facebook.com/spagheddy
Twitter: twitter.com/SPAGHEDDY
Instagram: instagram.com/spagheddy
SoundCloud: soundcloud.com/spagheddy
FOLLOW DANNY OLSON:
Website: dannyolsonmusic.com
Facebook: facebook.com/dannyolsonmusic
Twitter: twitter.com/dannyolsonmusic
Instagram: instagram.com/dannyolsonmusic
SoundCloud: soundcloud.com/dannyolsonmusic
FOLLOW CURRENT VALUE
Facebook: facebook.com/currentvalue
Twitter: twitter.com/TIMCURRENTVALUE
SoundCloud: soundcloud.com/tim-e-aka-current-value
FOLLOW CRYSTAL SKIES:
Facebook: facebook.com/crystalskiesofficial
Twitter: twitter.com/ItsCrystalSkies
Instagram: instagram.com/crystalskiesofficial
SoundCloud: soundcloud.com/crystalskies
FOLLOW ALRT: 
Facebook: facebook.com/ALRTmusic
Twitter: twitter.com/ALRTmusic
Instagram: instagram.com/alrtmusic
SoundCloud: soundcloud.com/alrtmusic