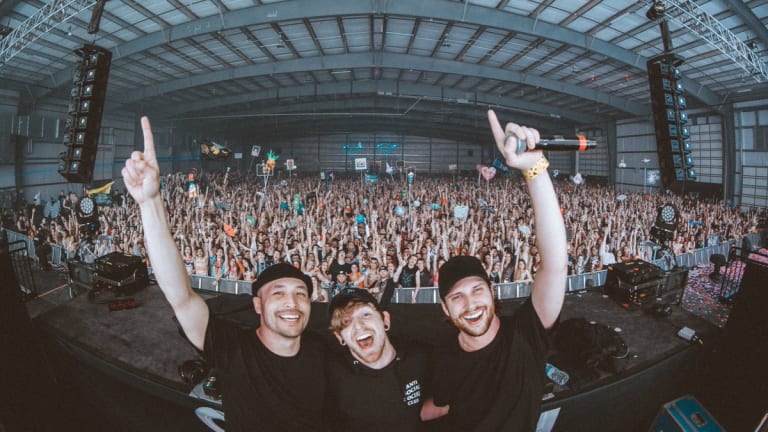 SLANDER and Said The Sky's Highly Anticipated Single "Potions" Finally Drops on Monstercat
After teasing "Potions" for months, SLANDER and Said The Sky have finally unveiled their much-hyped collaboration with JT Roach.
While SLANDER are typically known for dynamic and explosive bass music, their new collaboration with Said The Sky, aptly titled "Potions," demonstrates that even the those with the toughest exterior can succumb to the ever-present human emotions of love, loss, and longing. 
"Potions" delivers a vastly improved version of SLANDER's signature 'heavenly' bass line that we first came to recognize in their early "heaven trap" bootlegs from 2014 and 2015 (such as their remix of Above & Beyond's "Love Is Not Enough" as well as their remix of Bastille, Audien & Party Thieves "Pompeii"). It also incorporates the distinctive, melancholic musings and emotive melodies of Colorado native Said The Sky. Top off this already massive collaboration with the indie-folk vocals of JT Roach, and you have yourself a recipe for something truly magical.
In order to adequately communicate the magic of "Potions," fans were treated to a compelling official music video hosted by leading industry tastemaker Proximity that does an excellent job in relaying the story behind the music. "Potions" speaks to the nature of relationships ending, and the way in which each individual copes with the feelings of pain and loss. The potion offers a means to escape the ever-present pain, but it's unclear if the escape is anything more than a convenient self-deception.
Rather than relate the entirety of the heart-wrenching "Potions" narrative, we'll leave that experience up to the interpretation of the listener. What we can say for sure though is that "Potions" is one of the most nostalgic and emotional works that we've heard from this talented group of artists. It's the kind of song that gives you goosebumps every time it plays.
Stream or Download "Potions" today, and make sure to catch NGHTMRE, SLANDER, Seven Lions, and The Glitch Mob on their massive ALCHEMY Tour coming to North America this fall.
FOLLOW SLANDER:
Facebook: facebook.com/slanderofficial
Twitter: twitter.com/slanderofficial
Instagram: instagram.com/slanderofficial
SoundCloud: soundcloud.com/slanderofficial
FOLLOW SAID THE SKY:
Website: saidthesky.com
Facebook: facebook.com/saidthesky
Twitter: twitter.com/SaidTheSky
Instagram: instagram.com/saidthesky
SoundCloud: soundcloud.com/said-the-sky
FOLLOW JT Roach:
Website: jtroachmusic.com
Facebook: facebook.com/JTRoachMusic
Instagram: instagram.com/JTroach